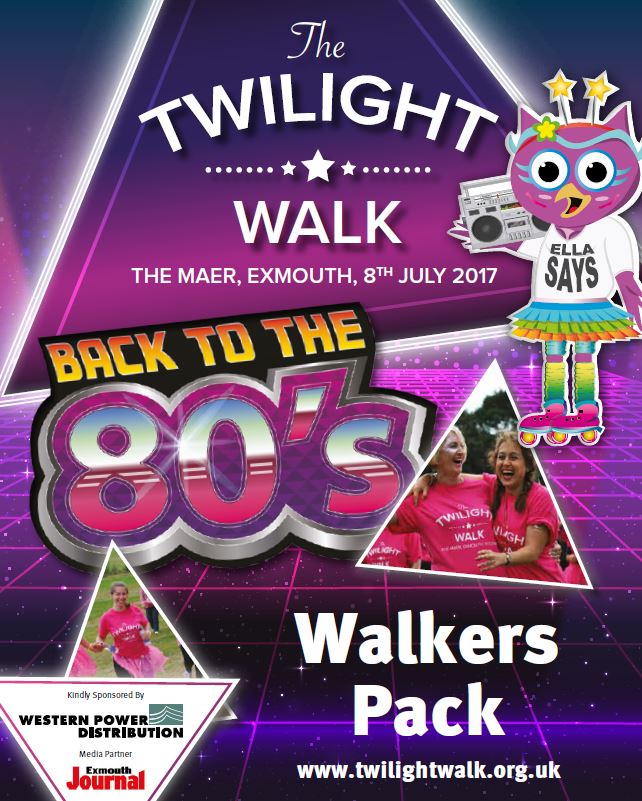 Celebrate the life of a loved one and have a fun packed evening out with the girls. Join us for the Twilight Walk and help raise funds for your local hospice.
The Twilight walk is a 5 mile or NEW 10 mile 'BACK TO THE 80'S' themed sponsored walk along Exmouth Seafront with entertainment around the route, Starting from The Maer, Exmouth.
Saturday 8th July 2017 at the Maer, Exmouth
Back to the 80's themed
Team offer just open – four register for £60 (until 30th May)
Register online www.twilightwalk.org.uk or over the phone 01392 688020
5 or 10 mile ladies sponsored walk
Get the girls together and join hundreds of women walking for their local hospice
Standard entry is just £17, which includes a t-shirt and refreshments to help you feel 'Pretty in Pink' along the way!
Or why not sign up as a group, 4 entrants for £60. That's only £15 per person!
The Twilight Walk is a sponsored charity walk for ladies aged 12 and over in Exmouth, Devon.
All money raised for your local hospice #hulaforhospiscare
For more information and to sign up see www.hospiscare.co.uk/events/flagship/the-twilight-walk