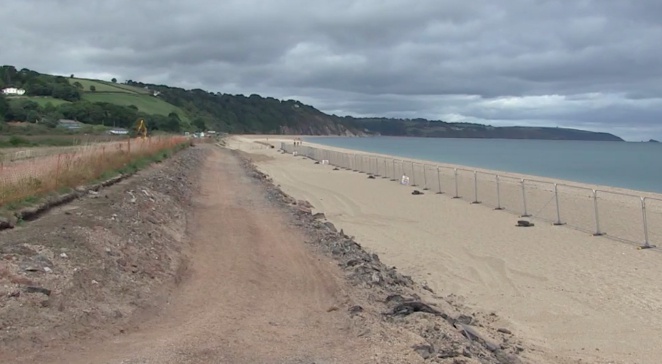 The footpath route at Slapton was washed away in March, the new route is set to change direction
Talks have been taking place with landowners about the route of the South West Coast Path in South Devon after a storm caused major damage near one of England's most important nature reserves.
The footpath between Torcross Point and Kingswear ran alongside the main A379 coastal route at Slapton Ley National Nature Reserve, before gales and high tides washed away part of the road in early March.
The road between the village of Slapton and Strete Gate reopened on Monday, October 22, after parts were moved up to 20-metres (66-feet) inland.
Natural England – the government's countryside agency – has held discussions with landowners, and officials have been working with Devon County Council on the realignment of the path.
Slapton Ley is the largest natural freshwater lake in South West England, surrounded by reed beds, marsh and woodland, fed by streams and a small river and separated from the sea by a narrow shingle ridge.
It has resident populations of rare birds including England's largest population of Cetti's warbler, and was recorded as the only UK site for a plant called strapwort, at high risk of becoming extinct.
At the north end of the ridge is the Slapton Sands Memorial – a U.S. Sherman tank rescued from the sea in the early 1980s. It commemorates the loss of around 1,000 U.S. servicemen who died when troop-ships taking part in rehearsal for the D-Day landings were attacked by German submarines, and has been recognised by the U.S. government.
The work on the footpath is part of a project to create a new 4,500-kilometre (2,795-mile) English Coastal Path around the entire country by 2020. A 107-kilometre (66-mile) stretch between Cremyll in the south-east corner of Cornwall and Kingswear in south Devon is being worked on at the moment.