WIN - Tickets on the Train to Christmas Town at Dartmoor Railway!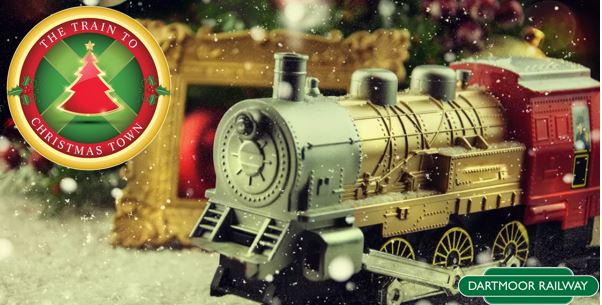 The Train to Christmas Town
WIN!
"All Aboard" Drivetime all this week! Ashley will give away a family ticket for 4 (2 x adults and 2 x children) to 'The Train to Christmas Town' with our friends at the Dartmoor Railway.

You will be a listening out for our Train montage of hits, as soon as you hear Ashley play it from 15 October, get ready to text in to secure your chance to win a place on the magical experience for the whole family this festive season !
Prize and T&C's
The tickets would be for selected date and times.
Dates and times below:-
Friday 30th November 5pm
Saturday 1st December 7.30pm
Sunday 2nd December 5pm or 7.30pm
All tickets are governed by the full terms and conditions on the website. No date and time changes. No monetary exchange or refund.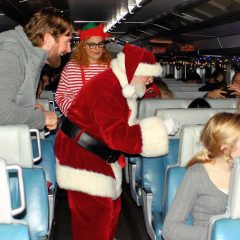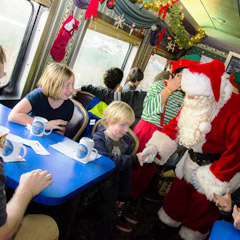 A magical experience for the whole family to enjoy this festive season
Be part of the magic this festive season and climb aboard the Train to Christmas Town. A train ride expertly designed to bring the spirit of Christmas to life for another year. Bringing the whole family together for a special ride to remember, you'll experience festive fun with fabulous characters and interactive entertainment.

Arriving at our beautifully decorated Okehampton Station, once you have collected your tickets from the ticket window you'll be transported into a seasonal delight. You'll have chance to take advantage of our gift shop and crazy character photo opportunity, and once you reach the platform you can truly embrace the amazing festive atmosphere. For your added enjoyment you'll find delicious hot food available to purchase, Pulled pork & Christmas stuffing, hot dogs and more. Or maybe a sweet treat is more to your taste? Mulled wine and Hot Apple cider available for the adults and fantastic music and performance to keep you entertained whilst you wait to board.
Once the Dartmoor Railway Conductor makes his "All Aboard" call you will board the Train to Christmas Town, where the magical elf folk are waiting to share the spirit of the season with everyone as we make our way to collect Santa. Can we create enough happiness and energy to make it all the way there?
The music will begin as we depart the station and you will be delighted with singing, dancing and storytelling from the Elves and Conductor. They will also introduce you to some wonderful new characters inspired by The Train to Christmas Town book and serve delicious refreshments in fantastic fashion. Feast on delicious chocolate chip cookies and maybe dip them into scrummy Hot Chocolate. Those in premium will also receive a commemorative Hot Chocolate mug to take home.
Before we know it we will reach the North Pole at Christmas Town where Santa Claus himself is waiting to climb on board along with his wondrously naughty Dancing Elves. Each child will be greeted by Santa as he makes his way through the train and presents them with a special Train to Christmas Town gift. Be ready to join in The Dancing Elves will have the whole carriage singing and dancing along to your favourite Christmas songs.
But wait, have we forgotten something… of course not, the Dartmoor Railway Christmas Town Conductor will be sure to punch all of the children's tickets; So keep them handy and listen for the call "Christmas town tickets please, tickets".

Creating memories to cherish for a lifetime at the most wonderful time of the year.

We are excited to welcome everyone aboard for this new experience and continue the tradition of fantastic Christmas Train Rides at Dartmoor Railway. Keeping the magic alive and the spirit of the season in the air for another year.

We encourage everyone to wear crazy Christmas themes, fancy dress or Pyjamas for even more interaction and enjoyment.

We will be on the lookout for those who don't join in :)..
For more details visit Dartmoor Railway.com