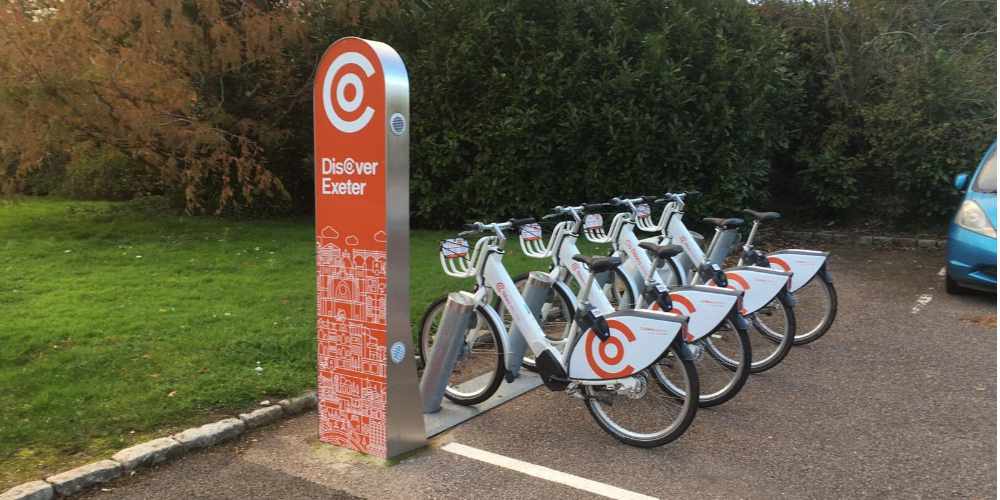 Stations in Heavitree and Cranbrook are to open soon
Exeter's pioneering co-bikes scheme is set to expand as two more stations set to open this month.
Stations at County Hall, Civic Centre, St David's station, Central station, the University of Exeter's Streatham campus, Digby & Sowton station and University of Exeter's St Luke's campus have already opened.
Mark Hodgson, managing director of Co Bikes, told the Exeter Highways and Traffic Orders Committee meeting on Monday that Co-Bikes sites in Heavitree and Cranbrook are set to open soon, with Pinhoe station possibly joining them by the end of the year.
And he added that the Co-Bikes and Co-Car Scheme has already seen 150 vehicles taken off the road, they have a long term ambition to get hundreds of bikes on Exeter's streets, and to have an electric car available within five minutes' walk of everyone in the city.
Mr Hodgson had been invited to give a presentation on the Co-Bikes and Co-Car Scheme, and he told the meeting at County Hall that since the re-launch of the scheme in early September, there had been over 1,200 trips made, 450 members had signed up to the scheme, but as it grows, thousands of people are expected to join the scheme.
He confirmed that the Heavitree High Street site would open in the week commencing November 18, that the Cranbrook Younghayes Centre site would open the following week, and that groundworks on the site at Pinhoe station would begin in December.
Cllr David Harvey said that he was delighted by that news and that he could tell the people of Pinhoe that they are set to get an early Christmas present in the form of the Co-Bikes station.
Further sites across the city will follow in 2020, including around Ikea and the Met Office, where they are just awaiting sign-off from the companies.
Mr Hodgson added: "With more sites, more people will use them, as we have a larger network. That was the biggest complaint last time about the lack of sites."
Asked by committee chairman Cllr Yvonne Atkinson why so far only the east of Exeter has benefited from the scheme, he said that it was because the rollout was supported by a bid from infrastructure funding relating to that part of the city, but that they are keen to expand to the west as well.
He added: "We are interested in sites around Marsh Barton and have bids in at the moment for the area and for St Thomas railway station. We are keen to identify more sites with a hope of different sites in the west end of the city, but one of the things slowing down the rollout is finding sites that are suitable for electrics, but we will be putting 20 more electric cars into Exeter next year.
"We have already taken 150 vehicles off the road because of this but eventually we want hundreds of bikes in Exeter. Our ambition is have bikes and cars within five or 10 minutes of everyone in Exeter, as unless they are near you, people won't necessarily use it. We are not saying that everyone will get rid of all their cars, but we want access of everyone to this within five minutes."
Cllr Andrew Leadbetter added that the Estuary League of Friends would be willing to help fund getting the scheme into Topsham, while Cllr Sue Aves called for there to be a site incorporated as part of the new bus station.
Cllr Rob Hannaford added: "We are a national leader in this and we need to shout about it. We have got to get people out of cars, and we need a more reliable bus service, so we have to push this more and more. Exeter is expanding but we have a Roman Road network."
Co Bikes is part of Co Cars, the car club for people, communities and businesses across Exeter and the South West. In Exeter, Co Cars currently has nearly 30 cars available to hire from as little as half an hour. Together, the cars and bikes form an economical, equitable and sustainable network of shared transport options to help reduce the dependence on private car ownership.