Art created by people living with dementia displayed in Exeter
Art created by people living with dementia displayed in Exeter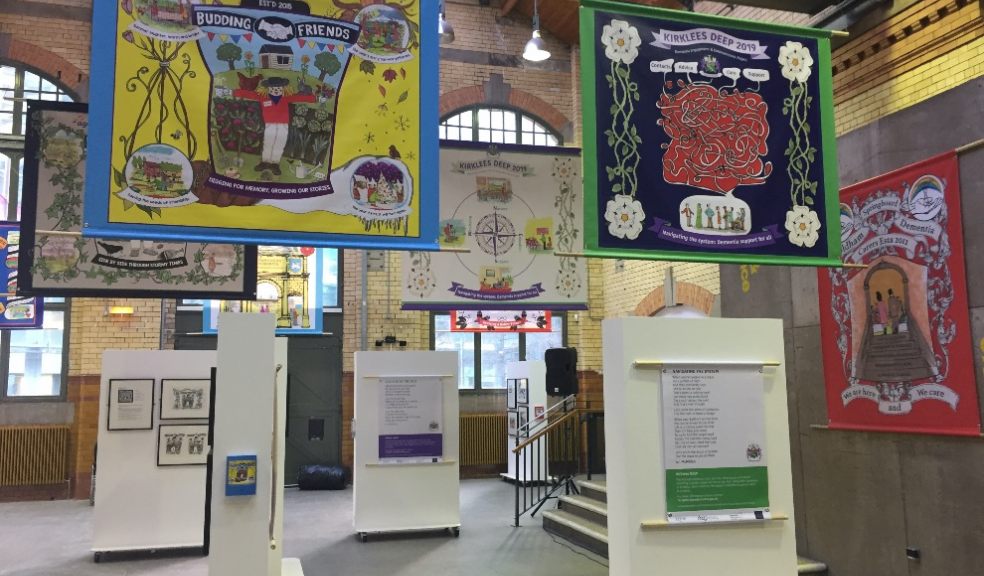 Banners created by people living with dementia who worked with a trio of well-known artists will be on display in Exeter until the end of March.
The banners, including one developed by members of Age UK Exeter's Budding Friends group, are on show as a special exhibit in Exeter Library.
Photographer Ian Beesley, poet Ian McMillan, and cartoonist Tony Husband worked with people living with dementia and their carers to create the banners as part of the 'A Life More Ordinary' project which originated from research at the University of Exeter. The project aims to support people to live as well as possible with dementia.
Through the project, the artists have worked with a number of groups of people affected by dementia around the country, including Exeter, Kent, Oldham, York, Leeds, Bradford and Scarborough, taking a different approach in each area tailored to the group. Banners made by some of these groups are now on display in the library.
The Exeter banner was originally unfurled at a special event at Age UK's Exeter Centre in April last year.
The first banner was made with a group in York. Photographer Ian Beesley said "The banner that the York group created was so striking and so effective that all our other groups wanted to create their own banners. Banners are powerful symbols of self-reliance and tangible proof of existence and as such have proved to be a fantastic way of articulating many of the problems faced by people living with dementia."
'A Life More Ordinary' is a project led by Professor Linda Clare at the University of Exeter, in collaboration with Innovations in Dementia, and funded by the Economic and Social Research Council. It is part of the IDEAL research programme – which stands for Improving the Experience of Dementia and Enhancing Active Life. IDEAL is funded by the Economic and Social Research Council, the National Institute of Health Research (NIHR), and Alzheimer's Society.
The banners will be on display until 31 March at Exeter Library.