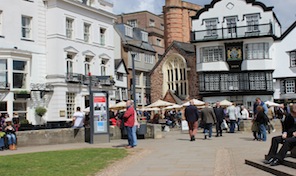 Exeter Chamber calls for balance
Exeter's Chamber of Commerce has cautiously welcomed the government's roadmap for easing lockdown restrictions.
The chamber, which represents businesses in the Exeter travel-to-work area, encompassing about 450,000 people, says it understands the balancing act that's needed between concerns to reign in the pandemic and the opening of the economy.
In a statement, Chamber chairperson Clodagh Murphy says: "Today's announcements have felt a long time coming with the date looming large for weeks. What we see before us is a cautious roadmap with situation-dependent timings.
"There will be many different feelings about this and for business, as for every individual, our own situations are unique. Many will welcome a more cautious approach in the hope of avoiding further lockdowns, for others, this approach may feel frustratingly slow.
"As a Chamber our commitment is in advocating for business and right now that means calling for business support that is closely aligned to the roadmap. With just over a week until the budget, we'll be hoping and expecting to see practical, solid support for business that mirrors the impact of the continued lockdown measures. This may mean an extension of the furlough scheme and further, potentially sector-specific, support grants.

"We'll be closely monitoring the situation in the coming days and weeks and will be speaking up for Greater Exeter businesses to ensure the support is there as we navigate our way through the new roadmap."