Friday 21st June 2019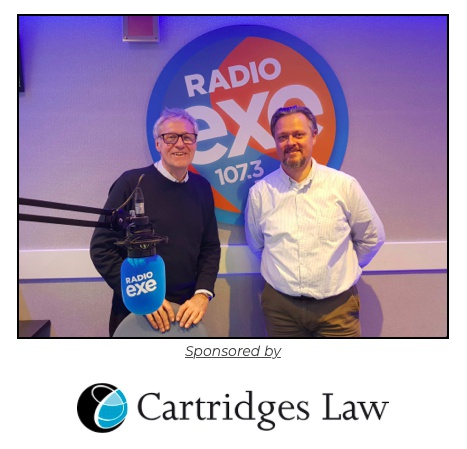 Legally Speaking every Friday afternoon from 1pm on Radio Exe
My Uncle, who died last year, left me with some shares in a big company. I haven't a clue what to do about it. My aunties given me a share certificate, but it's in his name. I'd like to keep the shares, but do I have to sell them and then buy them again in my name, or do I write to the company asking them to send a new certificate. If so, how do I find out where to write to – and will I have to pay anything to do this?

I had a valuation done on my house so I can switch my mortgage. All I thought I was getting was a valuation, but whoever has done It has added a number of points in the evaluation saying the property has been extended at some point, so the conveyer should check the details ive lived there for more than twenty years I don't know about any of the things he's mentioned what can I do to find out about work going back so far?

Me and the person who lives above me want to buy the freehold of the block of flats we live in. there are only six flats, and three of them are letted. The other persons not interested – in fact, he's completely against my friend and I trying to take control. Do we have the right to buy the freehold and if so, where do we start?

I bought a car privately and I thought I had a good deal. However, in the six weeks since, so much has gone wrong that I think I've been conned. The ad I answered was online on a reputable car sales website. I paid £3,300 for what they'd advertised as a small reliable car. Ive since more than a thousand pounds on engine works. Now I'm told the manifold needs replacing at the cost of another £700. Do I have any come back from either the seller or the website.

How do I start to sue my neighbour for making too much noise. The council don't care and I've had enough. A bit of legal action might encourage them to turn their music down at night.