Friday 26th July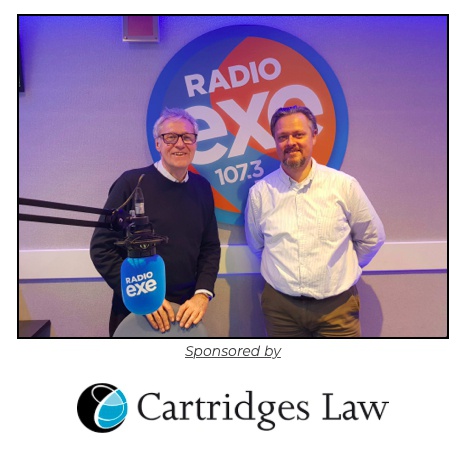 Legally Speaking with Cartridges Law, every Friday afternoon from 1pm on Radio Exe
I've been working happily in my job in the admin office of a family business for give years. Now the owner's got a cat, which she brings into the office – in the grounds of their house. I'm allergic to cats. It would be okay if it was outside, but it comes in. I don't feel I can complain without risking my job. What's the law around pets at work?
I took some naked selfies of myself. I should know better. I'm an overweight married man with kids. I sent them to the wife, thinking she'd be pleased, but they went to the kids too – they're not quite as happy. That's one technical mistake. The second is my son then accidentally sent the photos to his uncles. Long and short is now I'm embarrassed and a laughing stock. Can I lose my job if my boss finds out? And how can I stop people posting them online. Do I have the right to be forgotten?


I was a bit of a scally in my teens and ended up in court for fighting when I was 17. Now I'm 48, not been in trouble for years; family man. We're having a holiday in America in September, but someone's said I won't be let into the States because of the questions on a form I need to fill in before lading. I'm dead worried. My kids are really looking forward to the holiday. What's the risk of lying and saying I've never been in trouble. If it makes any difference I got fined and six months in prison, suspended for two years.

I need to do a will; all pretty simple really. Wife and kids get the lot – although there isn't a lot. However, I do have a small business in the building; me and a friend who own half the company each. How do I value that in my list of things I own. And do I have to pay inheritance tax on the business and my pension – even though I don't know how much they're going to be worth?