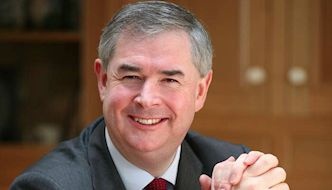 Geoffrey Cox is now the country's most senior lawyer
Geoffrey Cox QC is the first Devon MP to join government top table since Labour's Ben Bradshaw in 2010
Torridge and West Devon MP Geoffrey Cox has become the first cabinet minister from the county for eight years.
The barrister, who's rumoured to be Britain's richest MP, is the beneficiary of the ministerial musical chairs resulting from Theresa May's unravelling Chequers' Brexit compromise. Two cabinet ministers and at least one junior minister have bailed out since soft Brexit proposals were announced.
Mr Cox, 58, took his seat off the Lib Dems in the 2005 general election, succeeding Baron (John) Burnett. He is president of Tavistock Football Club and a vice president of the North Devon Hospice at Barnstaple.
Like the most of his constituents who voted, Mr Cox was a Brexiteer in the 2016 referendum. As the country's most senior lawyer, he will play an important role in the details of Britain's exit from the EU.