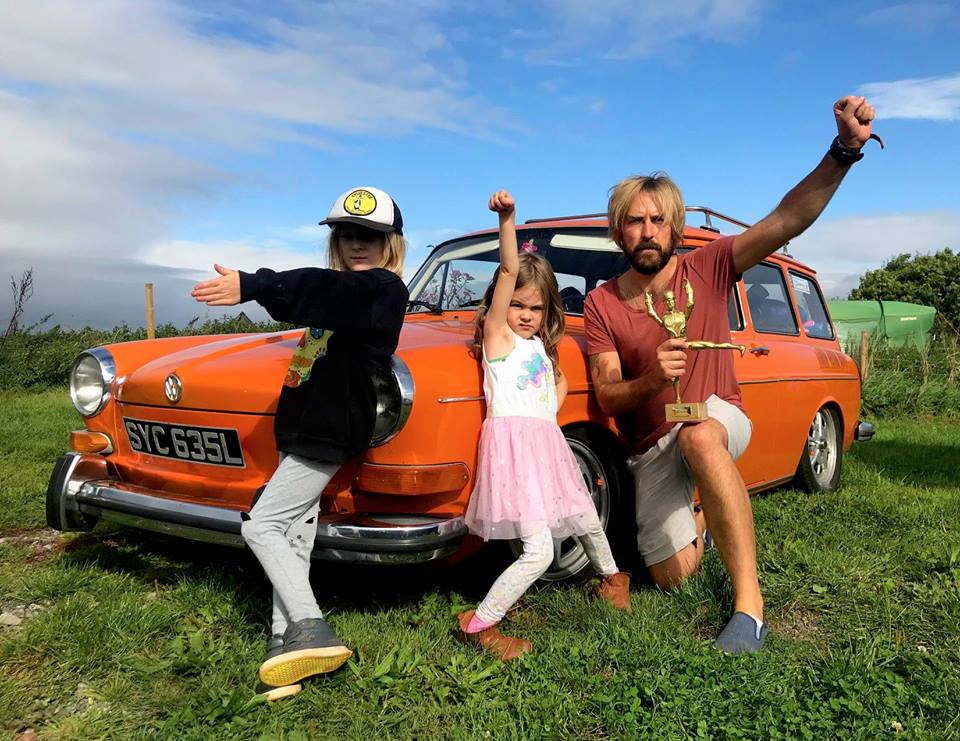 "Just don't embarrass me when I'm 15, dad"
Beeson is world centre for embarrassing fathers
A Devon-based dad dancing championship has been won by a grockle from Hertfordshire.
The hotly contested competition attracts embarrassing fathers from all over the world, but mainly the UK. Fought out over in tense, sometimes ridiculous moves, twinkle-toed Benjamin Dawson strutted his stuff and bagged the title. He says that to win you should: "Throw away ambition, release your inhibition and get Lost in Music!"
Benjamin is pictured with his daughter, Mai, 4 and her friend Sonny, 5, helping to celebrate her new World Champion dancing dad. "My spiritual home is in Devon and DadFest was absolutely fantastic - one of the best weekend festivals I have ever been to - awesome vibe, super relaxed and a lot of fun for the kids and dads. I'm still smiling having won the title" says Benjamin.
DadFest is the UK's only festival just for dads, male carers and their children. The festival is organised by Totnes-based 'Dangerous Dads'. DadFest organiser and founder of 'Dangerous Dads', Ian Blackwell says, "We've had a fantastic festival this year and everyone gets very excited about the now famous World Dad Dancing Championships. It was a great night, with children watching their fathers create dance moves that have never been seen before…and hopefully never seen again. Congratulations to Benjamin who is a highly entertaining and deserving champion."
The festival, which takes place at the Forest & Beach centre in Beeson, South Devon, is all about Dads and their children having fun together. In addition to the dancing DadFest involves adventurous activities including camping, tree-climbing, storytelling in the woods at night, bushcraft, campfire cooking, woodland games, archery, star-gazing; water rockets, kids' entertainer and award-winning local food and beer.