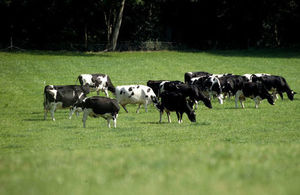 Image accompanying government announcement about badgers, but we're pretty sure theses are cows (courtesy: Department for the Environment, Food and Rural Affairs)
Government licenses further culls
Natural England, a government agency connected to the Department for Food and Rural Affairs has granted new licences for badger culling, in an attempt to control the spread of TB to cattle. The agency claims recent culls in Somerset and Gloucestershire have been successful.
Now they've issued letters to two existing licence holders in Devon under the Protection of Badgers Act 1992, allowing of the animals to meet their doom.
The first letter tells one recipient they must kill a minimum of 706 badgers in this "open season" and that they can do so "by all permitted methods". The maximum number is 1,585. The second letter (below) says the licence holder must kill between 195 and 504 badgers.
Farming minister George Eustice says: "Today's figures showing reductions in TB cases in Somerset and Gloucestershire are evidence that our strategy for dealing with this slow moving, insidious disease is delivering results. Bovine TB remains one of the greatest animal health threats to the UK.
"There is no single measure that will provide an easy answer which is why we are committed to pursuing a wide range of interventions to protect the future of our dairy and beef industries and eradicate the disease within 20 years. No one wants to be culling badgers forever so the progress reported today is encouraging."
The Badger Edge Vaccination Scheme, which was suspended for two years following a global vaccine shortage before resuming in 2017, is open for expressions of interest from today with grant funding of up to 50% of costs - worth £700,000 over four years - available to private groups wishing to carry out badger vaccination in the Edge Area.
The scheme, which funded three projects over the course of the past 12 months, aims to create a protected badger population between the High Risk and Low Risk Areas of England and prevent further spread of the disease. New projects would start in spring 2019.