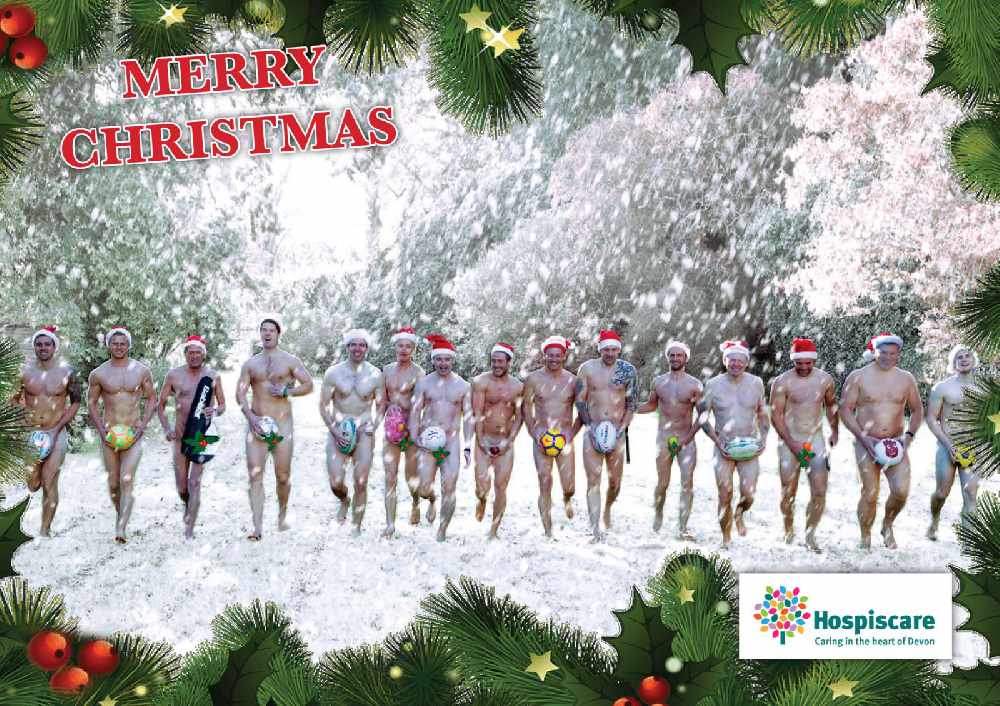 Balls placed strategically to save everyone's blushes
Cheeky Christmas card has poignancy for several chaps featured
Jingle your baubles! These brave boys have bared-all for a festive good cause.
For the past 14 years, former Exeter police office Barry Frost has produced an 'alternative' Christmas card to give friends and family something to smile about. But with his father, John, recently being diagnosed with pancreatic cancer, and getting support from Hospiscare, this year the cards are going on sale for a good cause. In fact, three of the men in the photo have families affected by cancer. So the card is poignant, as well as fun.
Mr Frost says: "Before my dad was ill I didn't really understand what a hospice does. I knew it was something to do with death but had no idea what an amazing charity Hospiscare is. It's wonderful, I just can't fault it. Before this happened my dad had always been fit. 1942 was the last time he had visited a hospital. But this spring he became unwell and got jaundice. After various tests they diagnosed cancer and confirmed it wasn't curable. He started treatment which improved things but he has been in and out of hospital since. At times we thought we were losing him. But they give him a drip and some oxygen and he seems to bounce back." John, a former engineer who lives near the new Ikea has even been invited to the store's official opening.
Balls - both rugby and football - were on hand to cover up any small embarrassment. Not that there were any. Shot at Escot House, near Ottery St Mary, on a chilly day, it didn't take long for the group to lose their inhibitions. Underpants were flung onto a tree for safe-keeping and so they didn't get wet. At one stage a family, out for a walk, chanced upon the photo shoot, and cheered the boys on.
Acanthus Press, photographer Achrefghanmi.co.uk and Escot House provided their services free. The cards are available at Hospiscare shops across Exeter and East Devon, and from Topsham Hair Design.
The models (from left to right) are: Steve Williams, Stefan Phillips, Paul Webber, Dan Fleming, Richard Brown, Barry Frost, Matt Taylor, Jason Steele, Steve Conabeer, Dave Smith, Ryan Goldsmith, Tim Swarbrick, Dave Haines, Jim Lewis-Clarke and Tony Pallet.