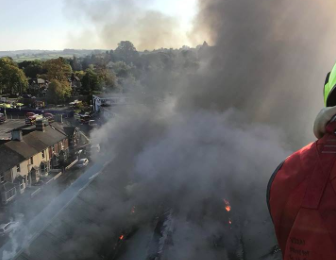 Photo Courtesy of Newton Abbot Fire Station Facebook page
Culprits are 'morons' says councillor
A fire at an empty warehouse in Newton Abbot that took nearly 24 hours to put out is though to be arson - leading a local councillor to dub those responsible 'morons'.
Gordon Hook, who is also a representative of Devon and Somerset Fire Service, hopes it will be proved that the fire was the result of a deliberate act. He says: "The culprits should be taken out of society and the police should find who did this moronic act. Firefighters turn up and put their lives at risk, for the ct of morons".
The blaze has completely destroyed the roof of the building near to the railway line on Brunel Road.
Some people were evacuated from nearby homes on Sunday afternoon - and there were fears that absestos fumes may have been involved, although that hasn't been confirmed.
The blaze started around 1 pm. The fire service gave its final update at 10.30 am on Monday, saying they believe it was ignited deliberately.
The site is due to become a supermarket - and some people have objected to those plans.