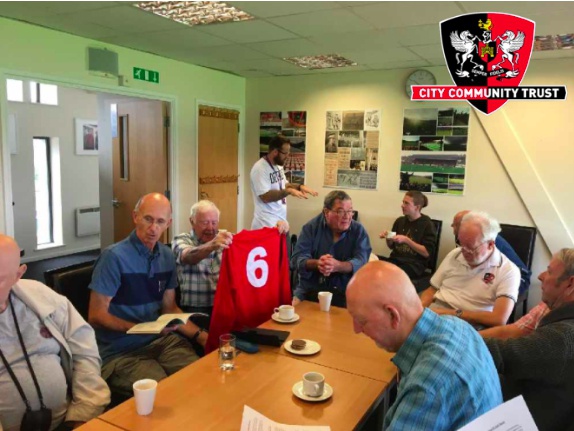 Picture courtesy of Exeter City Community Trust
Pensioners talk sport
A group that meets every week at St James Park provides people pensioners with the opportunity to share their sporting memories. They take part in quizzes and receive free refreshments during conversations about sporting tales they have encountered throughout their lives, as well as topical sporting subjects.
Regular member Mike Roach says It's the highlight of the week. "I find it immensely humbling and a real privilege to sit down with a group of people who have got so many unique memories and experiences of what's happened in their lives," he said.
"At a later stage in my life, to be able to sit down with a group of people, who have such rich experiences is something I never thought I would be involved with.
"You will go back over years because conversations trigger memories. Under normal circumstances you may have forgotten that you'd ever done something and by being part of this group you are reminiscing. It's invaluable.
"It's people meeting together on Wednesdays, looking forward to the company, looking forward to exchanging memories mainly related to sport. To going around and having a look around the ground as well."