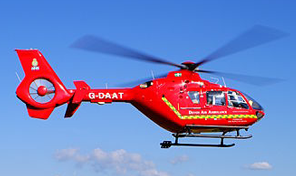 Incident at Chudleigh Rocks
A young teenager, believed to be a 13-year-old girl, has been flown to hospital following a fall from rocks at a quarry on the edge of Dartmoor.
Dartmoor Search and Rescue's Ashburton branch helped in the recovery of the youngster, who fell at Chudleigh Rocks on Sunday afternoon. They worked with Devon Doctors and the South West Ambulance Service to get her to a waiting Devon Air Ambulance. She's sustained multiple injuries and is now thought to be being cared for at Bristol Children's Hospital.
Chudleigh Rocks are of compact limestone, and organised rock climbing is available there. The British Mountaineering Council (BMC) describes climbing there as "inherently dangerous and climbers should be aware of the risk of personal injury and death." The land is owned by The Clifford Estate Company although fixed equipment on the crag is not theirs.