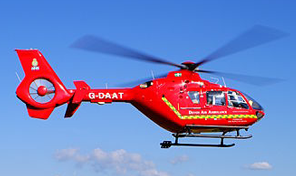 One person has life-changing injuries
A serious crash in North Devon on Friday afternoon has left two people in hospital; one with life-changing injuries.
Police say they don't know yet why a car collided almost head-on with an oncoming van at around 4pm on the A386 Nr Smytham Junction, Little Torrington.
A Citroen Picasso travelling toward Merton collided with a white Ford transit van travelling in the opposite direction toward Torrington. The road was closed to allow the fire service to cut the casualties out of their respective vehicles and for police to examine the scene. One person was flown by air ambulance to Derriford with life-changing injuries; the other taken by land ambulance to North Devon District Hospital.
Police are appealing for witnesses who may have seen the manner of driving of either vehicles or who may have dash cam footage or other information Please call 101, quoting log number DCP-20181207-0601. Calls cost 15 pence.