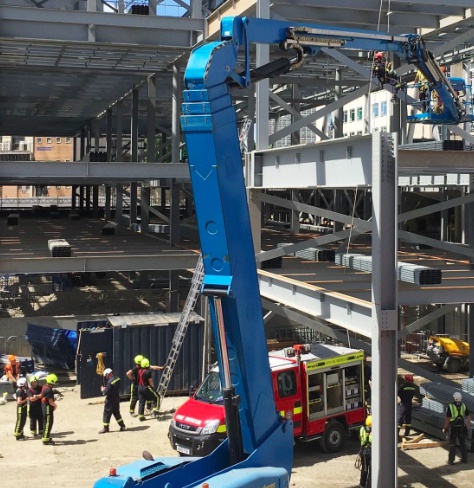 Devon & Somerset Fire & Rescue Service carried out a training exercise this morning (July 11).
The exercise took place on a development site in central Plymouth. The McLaren group invited Devon & Somerset Fire & Rescue Service to carry out the exercise that involved the specialist rescue team as well as Camels Head Crews.
Ben Weedon, Watch Manager Blue Watch Camels Head said: "The scenario involved us carrying out a rope rescue of a worker from a cherry picker that had become ill and incapacitated. Our task was to rescue him from a height.
"Working with the crews we tried a few options to gain excess using our rope systems. The onsite crane assisted us in positioning our lines, which enabled our rescue crew to ascend and rescue the causality from the basket of the cherry picker and lower him to the ground safely.
"Learning points always come up on these exercises and it's why we do them. Communication is always a big one that comes up. In the planning stage we might assume one rescue is suitable, but once on site we have to react to the situation in front of us as well as how the system sets in.
"In future we will look at having diagrammatic explanations in position. So in this case having a white board present would visually inform the other crews what we are planning to achieve and how the rescue will evolve. We have gained a lot from today and are clearer about what different options we will be using in the future."