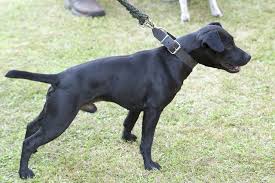 A patterdale terrier like this one has been rescued after its squirrel chase ended at height
A terrier in a tizzy leads to fire brigade rescue
It's not your usual 'cat stuck up a tree' story. Instead a Devon dog's been barking up the wrong tree in Baker's Park in Newton Abbot on Monday morning.
Worse, the pet's perilous quest to snatch a squirrel ended up with him (or her, the fire service isn't revealing the gender) stuck 20-feet over a river.
The terrified terrier was too scared to make its own way down. But although the dog didn't take a dip, a fire officer did -- in a wading suit. Portable flotation devices were also deployed.
One small Patterdale is now safe and back at home.
There's no news on how the squirrel is - but they're generally better scaling trees than terriers.