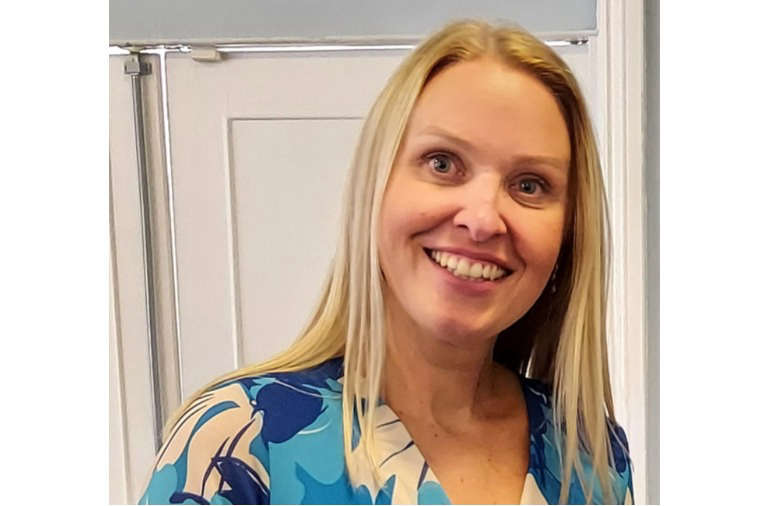 "No one could have predicted current crisis" says Conservative candidate Helen Hurford (Image: from party)
Helen Hurford will focus on economic crisis
"Cost of living, cost of living, cost of living. And roads."
These are the priorities of voters in Tiverton and Honiton according to Conservative by-election candidate Helen Hurford, ahead of next week's poll to replace former MP Neil Parish.
His 12 years representing the vast rural constituency, which stretches from Bampton on the edge of Exmoor to Seaton on the Jurassic Coast, came to an ignominious end in April after he admitted watching pornography in the House of Commons.
Former headteacher Ms Hurford, who now runs a local beauty business in Honiton, is tasked with defending the 24,000 Tory majority secured by Mr Parish in 2019 and restoring trust – despite a turbulent time for the party.
"I was expecting some other things to come up [on the doorstep]," Ms Hurford admitted, "but to be honest we're all seeing our prices increase, we're all seeing a difference every time we go and put fuel in our cars."
That is one of the reasons why she claims it is time to "draw a line" under the controversies surrounding Boris Johnson, which culminated in the 211 to 148 vote in favour of confidence in the prime minister by his own MPs last week.
Although the Tory hopeful was "frustrated" and "cross" upon hearing the partygate details emerge, Ms Hurford is backing Mr Johnson. "Let's focus on what's happening right now, move forward and focus on our priorities and delivering for the people," she says
She is keen to talk up the package recently announced by chancellor Rishi Sunak to help tackle rising bills, saying "we will all feel a benefit." The measures include a £400 discount on energy bills for every household and one-off payments of £650 for low-income families.
Ms Hurford has a "'six-point plan' for the area. In addition to help with soaring prices it includes tackling crime, investing in roads and rail, supporting the local NHS, more funding for schools and protecting farmers' livelihoods.
More specifically, Ms Hurdord, who is the current vice chair of Honiton Town Council, is supporting a new relief road for Cullompton and a long-awaited new high school in Tiverton.
But Liberal Democrat rival Richard Foord, who also supports the projects, pointed out such promises have "not borne fruit," despite the area largely being run for years by Tory politicians at district, county and parliamentary levels.
"I can point you to newspaper clippings from 2010 where Michael Gove, as education secretary, promised to come and visit Tiverton and see what the problems were. And actually, Tiverton High School has received next to nothing since then," he said.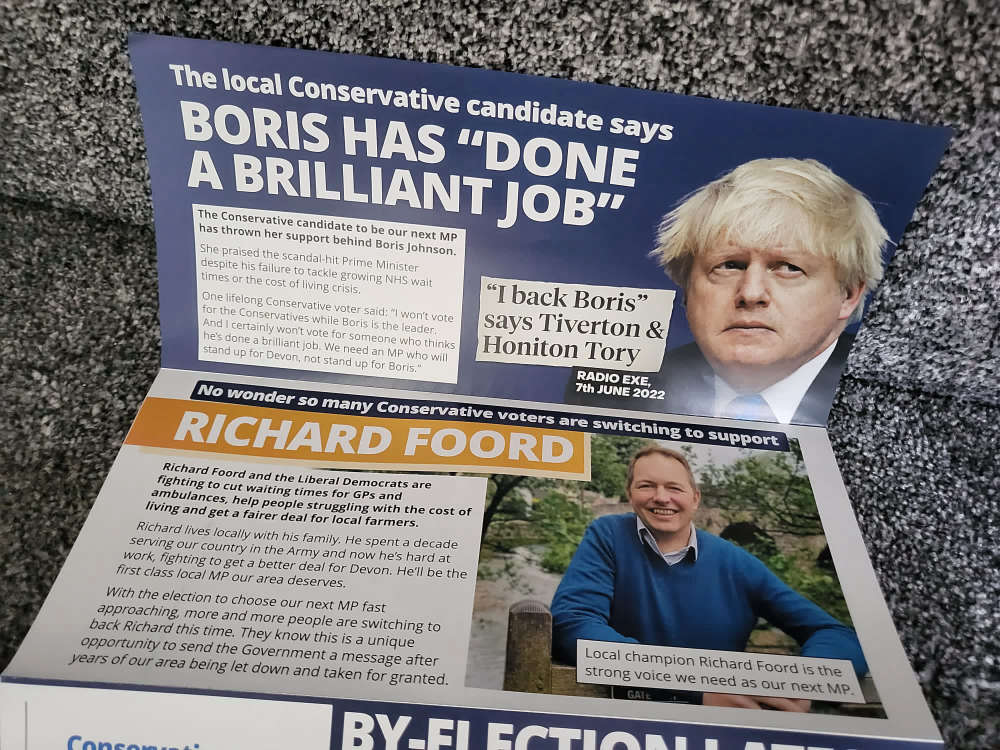 Lib Dem hopeful Richard Foord is pleased to spread the word that his Tory rival supports Boris Johnson
The Conservatives have held Tiverton and Honiton – both before and after the two seats merged in 1997 – since 1924.
"Frankly, the only way that we are actually going to get the government to pay attention to an area like ours is by voting differently for a change," Mr Foord said.
"And that will, I think, wake the Conservatives up to the fact that we are not going to be taken for granted in the way that we have for decades."
Ms Hurford defended her party's record by saying "things change," pointing to the pandemic and the cost of living crisis. "No one could have predicted where we would be."
Her comments come as new figures from the Organisation for Economic Cooperation and Development (OECD) predicts the UK is set to have zero growth next year, placing it 19th out of the leading G20 nations, with only sanctions-hit Russia expected to perform worse.
Tiverton & Honiton Labour candidate Liz Pole said in a video on Twitter: "It's clear that voters in the south west need a change of direction and a government that's serious about providing for everyone in our region."
Eight candidates are standing for election in next week's by-election:
Jordan Donoghue-Morgan – Heritage Party
Andy Foan – Reform UK
Richard Foord – Liberal Democrats
Helen Hurford – Conservative
Liz Pole – Labour
Frankie Rufolo – The For Britain Movement
Ben Walker – UK Independence Party
Gill Westcott – Green Party