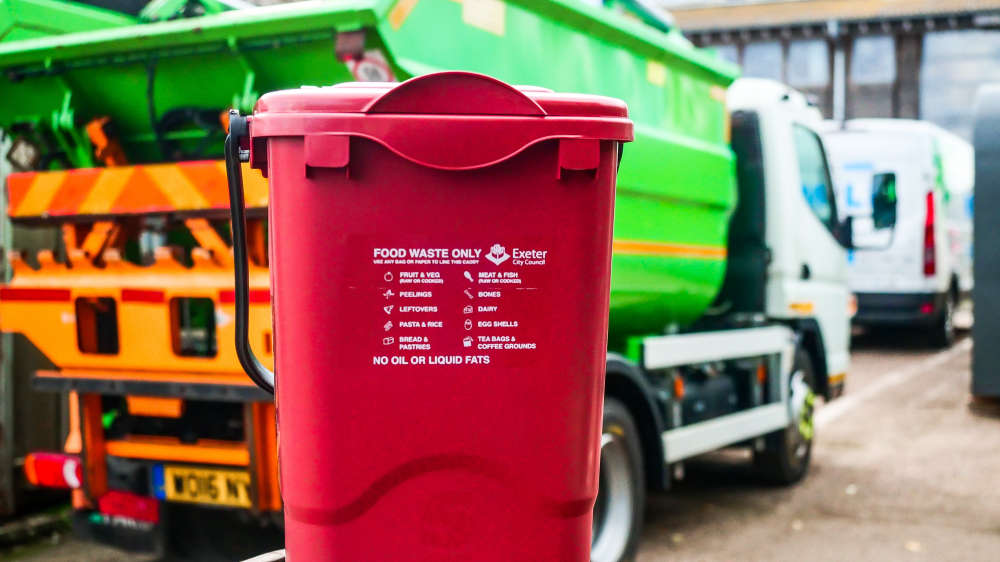 Food Waste Container, Exeter (Courtesy: Local Democracy Reporting Service)
"A matter of urgency"
Councillors have clashed over the long-awaited rollout of Exeter's food waste collections, after the Tories demanded it be introduced city-wide "as a matter of urgency."
Plans for kerbside collections of glass and food were first announced by the city council in 2019, but last year the glass service was put on hold indefinitely.
In November, a pilot of the food service began in Alphington with the Labour-controlled council saying it would then introduce the service "gradually" across the whole of Exeter.
Yet it remains unclear when all of the city's residents will receive the red food waste caddies, meaning most households are still putting unwanted and leftover food in their black bags for collection.
As part of their amendments to the budget this week – which were rejected – the Conservative group said "provision should be made for the rollout of recycling of food waste across the city as a matter of urgency and without further delay."
The latest recycling statistics for Devon revealed just 28 per cent of waste was recycled in Exeter in 2020/21 – less than half of neighbouring East Devon.
Speaking at the budget meeting held at Exeter College, councillor Anne Jobson (Conservative, St Loyes) slammed the figure as "appalling" and said the service should be rolled out fully by the end of the next financial year [March 2023].
"It is said on the doorstep over and over again, 'why can't we have what they have in East Devon with the sufficient food waste collections?" Cllr Jobson told members.
In response, councillor David Harvey (Labour, Pinhoe), portfolio holder for city management, made an impassioned defence of the work being carried out, rejecting another claim that food waste collections hadn't been rolled out because of a lack of money.
"The funds are there and have been there. The issue is we cannot get vehicles. We have one, we have another arriving hopefully in May. It is ordered but supply chains are what supply chains are.
"We cannot acquire vehicles. Now, I'm not going to comment on why, apart from the fact that it's a shortage of semi-conductors apparently."
He added: "We also cannot find drivers. We appointed two new drivers during a week, and by the beginning of the next week they had been poached by our competitors."
But cllr Harvey admitted "officers are aware that there is disquiet because the service has not been rolled out" and said "the barriers to this" would be explained at a council scrutiny meeting to be held next month.
The Tory budget proposal was rejected at the meeting, along with the rest of their amendments.
Last year, when announcing the Alphington pilot, the council said in a statement: "Other areas will be added to the rollout as and when vehicles, drivers and containers are available, and this will be dependent on the supply chain which is currently an issue across the UK."