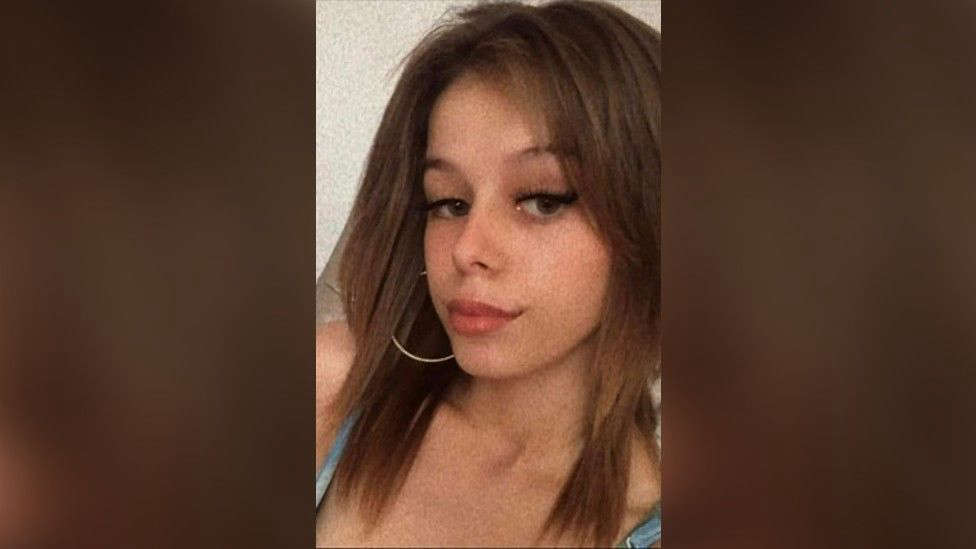 Bobbi-Anne McLeod was killed in November
Plans follows death of city teenager
A new multi-agency commission in Plymouth, set up to tackle violence against women and girls, has received the full backing of the city's councillors.
The commission was established following the death of 18-year-old Bobbi-Anne McCleod who disappeared from a bus stop in the Leigham area of the city in November. Local musician Cody Ackland, 24, has been charged with her murder.
Introducing the motion, which was given unanimous support at a full council this week, Councillor Vivien Pengelly (Conservative, Plymstock Dunstone), member for homes and communities said: "Tackling violence against women and girls is such a significant issue and as a city we are united in responding and tackling this together.
"While there is significant work already underway in our city, we know there is more to be done and I am pleased that the [commission] has been set up at pace to understand and respond to the growing concerns in our communities, our workplaces, our homes, online and in our schools."
During a lengthy and, at times, emotional debate, councillors told of their own personal stories and experiences.
Councillor Charlotte Carlyle (Conservative, Compton) who backed the motion to support the commission, shared a "terrifying incident" when she was on her way to work one morning aged 17.
"As I walked down a deserted road, a man crossed the road and started walking behind me. I heard him running, he grabbed my shoulder. Luckily, I broke free, I ran and I hid in someone's front garden behind their bins.
"I heard him searching for me, but luckily somebody was walking their dog up the road and he left.
"The incident obviously left me shaken but not surprised unfortunately. Many of my friends encountered similar types of situations and I dare say if you ask many of the women in this room alone, you would sadly hear similar stories."
Cllr Carlyle said that while members can ask the cabinet to make changes in the city, making the streets safer "won't help completely," citing a crime survey for England & Wales which found that seven per cent of women aged 16 to 74 experienced domestic abuse in the year ending March 2020.
Chair of the commission Councillor Rebecca Smith (Conservative, Plymouth Radstock) admitted it was an "epic task."
"We are all hopeful that by shining a light on this crucial issue – the fact that far too many women and girls experience violence at the hands of men and all the associated impacts on their home, children, livelihood and ultimately the enjoyment of their life and their future – we will see things shift."
"We will see a safer Plymouth, women and girls feeling able to live their lives and, most important, less women and girls in Plymouth experiencing violence at the hands of men.
Councillor Margaret Corvid (Labour, Drake), who revealed she was stepping down in May due to suffering from online harrassment, said there was a "powerful link between the dehumanisation of women and girls and the violence against women and girls."
She continued: "Remember it's not just about lights at bus stops, although that's important, it's not just about educating the police and our frontline services which is important. It is about changing our culture from the ground up and it is the place of every one of us when they see or hear a woman or girl being dehumanised, to call it out, to learn."
"We can do better, we must do better."
Councillor Jemima Laing (Labour, Stoke), who seconded the motion, said it was "vital that this commission succeeds and achieves real and lasting changes for the women and girls of our city."
She added: "We have to make it unacceptable to employ the rhetoric of blame, of the idea of somebody putting themselves in a 'compromising position'.
"We have to do away with a notion that what a woman is wearing, or where she finds herself – somewhere less salubrious – that she is somehow at fault if something happens to her."
Councillor Dr Pam Buchan (Labour, Honicknowle), while supporting the motion, raised concerns about the safety of some bus stops in the city and criticised a response from officers, adding: "Women should not have to use public services differently from men in order to feel safe."
Councillor Kevin Neil (Independent, Stoke) encouraged the council to go further by encouraging the government to adapt the housing act to better protect women fleeing from domestic abuse, describing the law as not proving them with "the full protection that they deserve and need."
Councillor Jeremy Goslin (Labour, Peverell) added: "I really want to ask the council cabinet leaders to act now to plan some real concrete improvements for inclusion in the coming budget, and to better protect women and girls from across our city, including better park lighting.
"Asking women to steer clear of certain areas or wear hi-vis jackets and take their chances is simply not good enough."
Endorsing the establishment of the Plymouth Violence Against Women and Girls Commission, councillors agreed to supports its objectives:
To shine a spotlight on the national issue of violence against women and girls (VAWG) and to understand more about the issue for those living in Plymouth.
To take a proactive stance to better understanding a wide range of views and experiences, and consider what more needs to be done to tackle the issue.
To improve the perception, and the lived experience of women and girls that Plymouth is a safe city.
To promote a better understanding of the causes and means of addressing male violence against women and girls.
To provide impetus for key partners and the private sector to review their contribution to tackling VAWG in the city.
To take the opportunity to revisit and revise local policies if appropriate, including the public health approach to addressing VAWG, and to identify and seek to influence any areas of national policy that need revising.
To review existing partnership arrangements in the city to make sure there is a clear focus and tangible action on addressing VAWG, including its wider impact on the families and children of victims and abusers.
To ensure there is strong and visible leadership on VAWG for the city to drive through the recommendations identified by the commission, and to be the champion for change.
Councillors also committed to supporting the commission in its work, acting on the recommendations and to ask every cabinet member to look at areas in their portfolio which can contribute to making women feel safer.
The commission includes police and crime commissioner Alison Hernandez, Plymouth police commander Chief Supt. Matt Longman and Hannah Shead and Lyn Gooding, joint chairs of the Domestic Abuse and Sexual Violence Local Partnership Board of Safer Plymouth.
The findings are expected to be published in March.