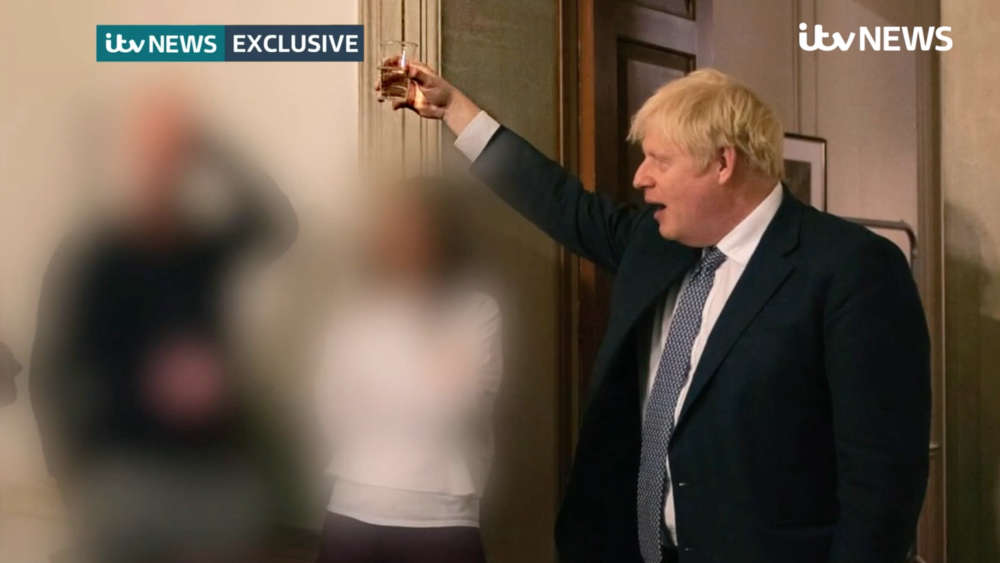 Raise a glass (courtesy: ITV News)
But former MP says PM should "explain himself"
Porn-watching former MP Neil Parish has described himself as being like the prime minister – an "imperfect character".
The former Tiverton & Honiton MP, who resigned from his post in April after admitting to viewing pornography in the House of Commons, says the prime minister should now "explain himself" over photos of a lockdown party in Downing Street in November 2020 in which the PM is seen raising a glass surrounded by bottles of alcohol.
Speaking to the Local Democracy Reporting Service, Mr Parish said: "The issue I think for the prime minister is very much now to explain what these events were.
"He's maintained they weren't parties. I think as more photos emerge it is getting quite difficult for him."
He continued: "The prime minister has many great qualities. I think he sometimes naturally doesn't quite realise the effect that he's having on the rules that he's asking other people to be applied and, of course, if you've lost loved ones you are of course naturally very upset and I do understand that.
"I think it's for him to explain himself and then for the public to make their judgement on him."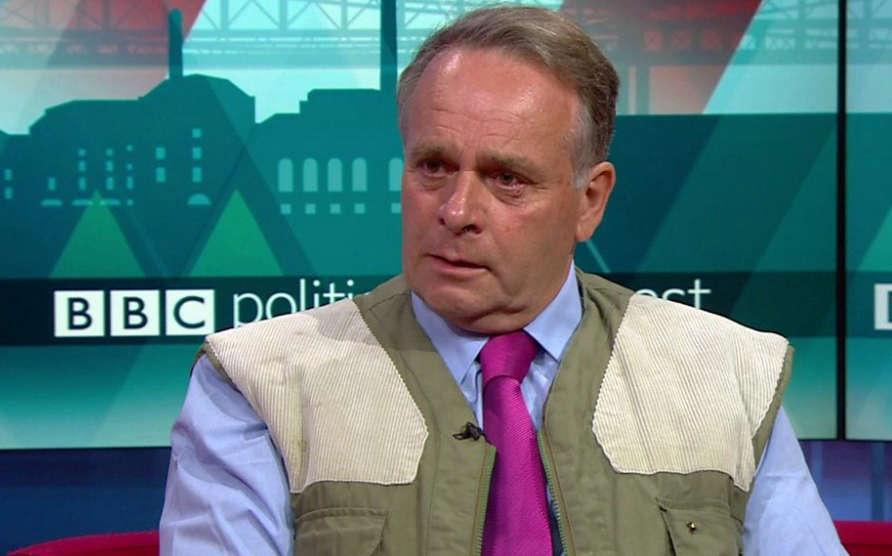 Mr Parish explains how he was looking for tractors on his mobile phone (courtesy; BBC Spotlight)
After his igniminous resignation, Mr Parish will now be supporting the new Conservative candidate for his Tiverton & Honiton constituency, Helen Hurford, a former headteacher. However, he says he will only get actively involved in her campaign if asked.
And Mr Parish says a prime ministerial visit "could be" a distraction from the campaign for the seat where he won for the Conservatives with a majority of over 24,000 votes in 2019.
He explained: "The interesting thing with Boris is that, yes, he is one of these Marmite characters where people either basically love him or hate him and there's not much in-between.
"You'd find that if he came down he would still have a good deal of support…I suspect he would not be short of people to actually see him."
Despite the new photos of Boris Johnson at a lockdown party, Mr Parish still supports the prime minister.
"I think he's an imperfect character, but then so am I", Mr Parish said.
"He has a good heart and he does actually believe in trying to get things done.
"His one great problem in a way is that he overpromises and I think then finds that he can't deliver on everything.
"But I have always found him good to deal with. I have always got on with him very well."
He said that in a recent meeting with the prime minister, before Mr Parish's downfall, Johnson referred to him affectionately as "an old muck spreader."
"I did say to him I was happy being called a muck spreader, but I did take umbrage over the 'old.'
"I basically wish the prime minister well," said Mr Parish, who has previously explained how he came across a porn site on his mobile phone whilst searching for tractors.
Mr Parish says both the prime minister and the chancellor Rishi Sunak had been in touch following what he calls "the storm" that ensued.
"I pay full credit to them for making that contact", Mr Parish said.
"While I feel that part of the whipping system in London could have been handled better, I think that generally I have been supported by the prime minister and the chancellor through this so therefore I very much support the party and the way forward now and the new [by-election] candidate Helen Hurford and I hope that she is successful in the by-election."
'Whipping' is the process by which MPs are compelled to vote in favour of their party.
The prime minister was not fined for attending the November 2020 party, although others were.
The publication of the images by ITV has led to questions being raised about the quality of the Metropolitan Police's investigation into Downing Street lockdown parties.
On 1 December 2021, Boris Johnson told MPs "all guidance was followed completely in No 10."
In response to the new photos, a No 10 spokesperson told ITV News: "The Cabinet Office and the Met Police have had access to all information relevant to their investigations, including photographs.
"The Met have concluded their investigation and [civil servant] Sue Gray will publish her report in the coming days, at which point the prime minister will address parliament in full."
Last week, acting deputy commissioner of the Met, Helen Ball said: "Our investigation was thorough and impartial and was completed as quickly as we could, given the amount of information that needed to be reviewed and the importance of ensuring that we had strong evidence for each FPN [fixed-penalty notice] referral.
"This investigation is now complete."