A Play That Goes Wrong at the Theatre Royal Plymouth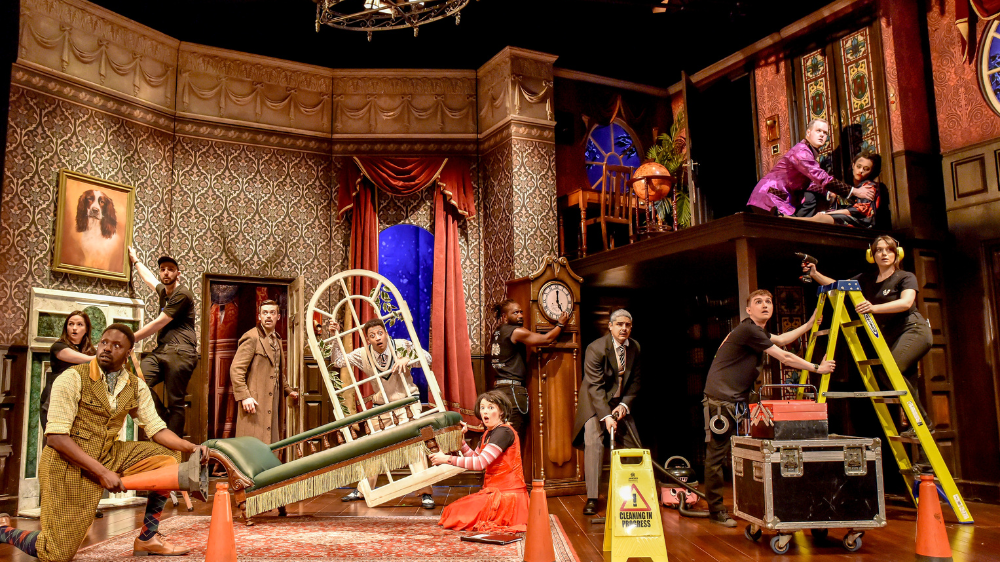 Kenny Wax, Stage Presence Ltd and Mischief Theatre productions
June 2022
Reviewed by Jamie Taylor
Award-winning comedy group Mischief Theatre return to Devon with their West End and Broadway hit 'A Play That Goes Wrong' - which can only be described as 'Faulty Towers' on steroids and a show which throws the book of farce out the window.
It tells the story of a company of actors putting on an amateur production of a 1920's murder mystery, which goes horribly wrong – but is all purposefully done and choreographed to perfection.
The classic whodunnit is wrapped in mischief and slapstick, combined with wrong lines and props. Staging constantly breaks, characters going AWOL, silences are prolonged and embarrassing, and much more - it's a performer's nightmare!
Chaos reigns from the start, if not earlier. You're laughing before the show begins as you're treated to a 15-minute pre-show combining audience participation with brilliant comic routines centred around fixing the broken set - a perfect way to ease into the madness.
The beauty of this show is you'll never know if a performer has messed up or whether something has actually gone wrong. All eight cast members, including the stage crew, play their part. They must be exhausted after every show, as it's physically demanding and non-stop for nearly two hours with laugh after laugh.
As the play and the staging slowly falls apart, you start developing an understanding of each character; each performer has an opportunity to show off their talent.
If you're not a fan of the fourth wall of the theatre being broken, this is not the show for you. In fact, it's smashed to pieces - especially when the director/inspector starts yelling at the crowd for thinking the show is a pantomime or when the cast is secretly trying to signal to the stage manager to cue the music or bring down the curtain.
The two stage crew members also shine as they fill in for performers trapped behind doors or unconscious. This added with beautifully crafted set-up and payoffs throughout the piece leads to some hysterical moments.
Then once you think you've figured out the entire plot, there's a little twist and unexpected magic trick to round it all off. It's hard to sum it all up, however, I'm going to steal a phrase I overheard on my way out. "It's beautiful chaos!" Spot on.
The Play That Goes Wrong runs at Theatre Royal Plymouth until Saturday 2 July 2022, then touring.