Buddy – the Buddy Holly story: Theatre Royal, Plymouth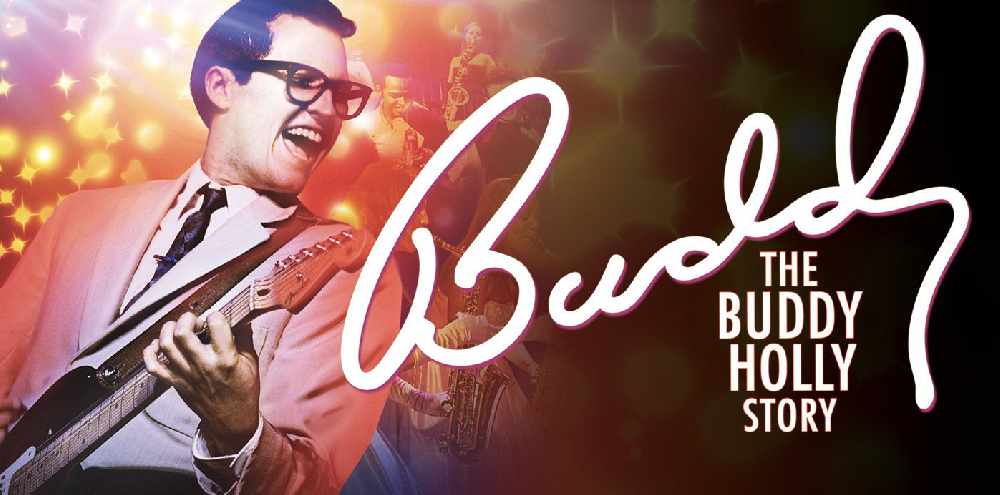 Listen to a short interview with stars AJ Jenks and Josh Haberfield, interviewed by Radio Exe's Paul Nero.
BUDDY RETURNS TO DEVON, September 2019
You know you're getting old when you're at a 30th anniversary reunion of a show you first enjoyed fresh from its womb. Buddy, the Buddy Holly Story, is back in Devon, the county that gave it birth. And though the audience is 30 years older, not quite springing to their feet for a standing ovation as much as being helped to them by ageing friends, the show rocks as much as it ever did.
Clearly changes have been necessary. Actors mainly. Almost no-one on stage this week walked the planet when Buddy was first in Plymouth in 1989. Gone sixty years, his hits are sung now by performers not long out of their teens to an audience nearer the grave than the cradle. Honestly, the auditorium resembled an evangelical assembly in an overcrowded care home.
AJ Jenks, playing Buddy on Gala Night, when 1989 ticket prices of between £7 and £10 prevailed (that doesn't happen Everyday), was plying cruise ships last year to (dis)embark to a star role in a company of accomplished musicians. Every note played live. You need great balls of fire for this role. He's got it. Big Bopper (Joshua Barton) rocks. Ritchie Valens (Ben Pryor) rolls. Female support roles go further than support, caricatured though they may be. It's not enough to sing or act in this production, you've got to play well too.
Alan Jane's book is refreshed; some new jokes, pacier later on, a tad slow at the start. It's not as big a production as previously; a bit more role-doubling, a little smaller to accommodate some of the mid-sized venues on this tour. The plot, as much as one exists, is the story of the songs, not as the subtitle suggests, necessarily the story of Buddy Holly. Dead at 22, there's not that much to say – boy, glasses, guitar, airplane (as the Americans would have it), but a great deal to sing. A small number of songs have been added too. Reet Petite is one. Recorded in 1956 and a more popular radio track today than any Buddy Holly rock 'n' roller. Ain't that a shame? You don't have to remember the fifties to tap toes to Raining in my Heart, Every day, Oh Boy or Rave on. This is undisputedly a terrific show, whether it's 1989, 2019 or indeed 1959, on the day the music died.
Buddy now tours across the UK and is back in Devon in 2020: Barnstaple from 28 April and Torquay from 5 May.