Clockwork Canaries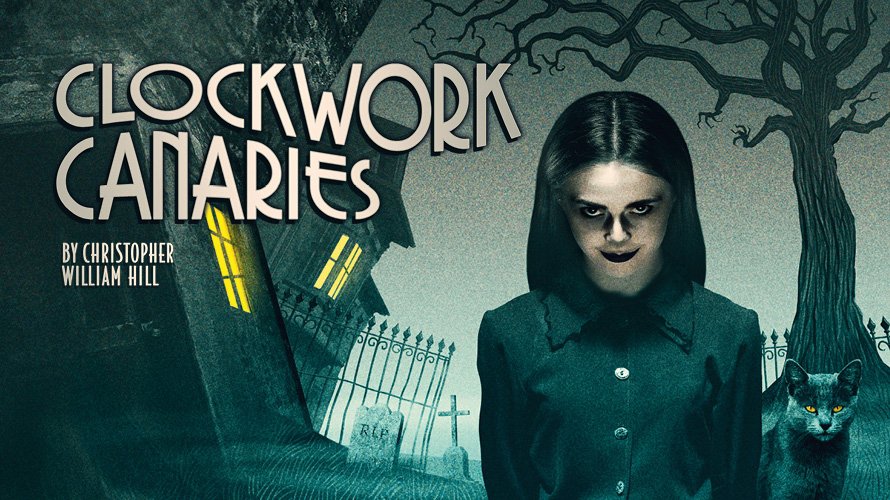 Review by David Marston
Lots of wonderful ingredients are poured in to this piece – including cages filled of tempting canaries and a cat whose killer instincts are particularly well developed. But unlike the goulash bubbling away on the stove for much of the play – it doesn't quite come to the boil.
Championing new work is one of the strengths of Theatre Royal Plymouth where their Drum venue is always a place in interest.
And there is plenty of interest in this latest TRP piece written by Christopher William Hill – billed as a "blood thirsty comedy" and "for adults but suitable for brave children aged 8 +".
Dark comedy, weirdly wonderful characters and stylish and stylized performances are all part of the package. And Hill has a taste for the gothic and macabre with a good twist of comedy. There's a touch of the Lemony Snickets about it all.
The story is set in a sort of Mid European city, perhaps in the early part of the last century where an obsessive inventor (nicely eccentric Dominic Marsh) wants to make both humans and animals more efficient. His young death fixated daughter (charmingly ghoulish Charlie Cameron) rescues a cat from the river and brings him to their weird home where she keeps a tailor's dummy to remind her of her long dead mother.
Christopher Staines in particular is impressive, multi-tasking as a sly detective, a doleful undertaker and a magnificently busted opera singer who lives next door. In one particularly memorable image, he is dressed in a glorious canary yellow outfit – a mistake when there is a cat around with a growing taste for songbirds.
There is fun support from a poorly disguised delivery boy (Jeremy Ang Jones) while puppeteer Richard Booth is excellent at bringing the mangy cat to life.
But there are too many times where you want director Luke Kernaghan to pick up the patchy pace (for example cleaning up evidence when the detective arrives) and make things work more smoothly. Also, the 135 minute running time feels rather long for a piece that doesn't seem quite sure if its target audience is adults or children.
Perhaps a little more work is needed to get this ticking along nicely.