Dracula: the Bloody Truth at the Exeter Northcott
La Navet Bete, in association with the Exeter Northcott Theatre
September 2019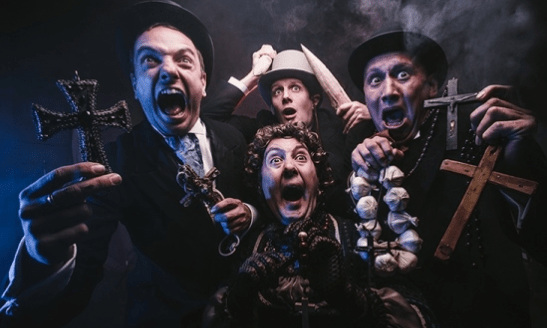 Image: Matt Austin
Review by Paul Nero
Dracula's back. Vampires are in. Van Helsing revived. And for Exeter company Le Navet Bete, Bram Stoker's legendary character has risen once more. A show three years old is touring again. It worked well before, so let's do the show again right here.
The plot is both well-known and, for Van Helsing, concerning. Dracula's story is being taken for fiction but Van Helsing knows it to be true. So he's hired a troupe of actors to say it like it is. What he wants is Facts. And thus four performers and dozens of characters give us the facts. The man not in the mirror who hates garlic and stakes will have your blood if you have the misfortune to be at his castle at night.
This is a big-hearted show that adapts for small venues, but the Northcott is its home and where it's at its best. The actors fill the set, even as it falls apart and the audience is with them all the way. They startle at explosions, delight in slapstick, thrill at the comedy. The company risks the risqué, the adults don't mind, the children don't know. From the start when the drama is so hair-raising a character loses his hair – theatrically set up so everyone knows what's to happen – to crafted set-pieces as the lunatic swallows the cat to catch the bird to catch the spider that swallowed the fly. They've crafted this gag so it creeps up slowly and done so as skilfully as they have the bigger theatrical pieces. If you want to kill a vampire, as well as the stake through the heart, it's wise to cut off their head. That's done impressively too and to the gruesome surprise of one audience member who ends up with a severed head in their lap. All good clean fun.
As Le Navet Bete say proudly say, the show has found a place beyond their own repertoire. Licenced around the world, it's currently touring North America and has been translated into a number of languages too. Presumably it's hot in Transylvania.
Le Navet Bete is an odd company. Odd because they're not better known. Odd because their tours dates are sporadic, a day here, a couple of days there, but other than a Christmas show, few week-long runs. Odd because they're clearly talented storytellers whose own story is not particularly well-known. There's no programme to accompany the show. They like to meet their audience in the bar afterwards. Perhaps it's the perfect business model. Keep dates limited. Keep the audience wanting more. Certainly their shows are accomplished, polished, life-affirming, a great way to introduce youngsters to theatre and show them the classics, such as this show and the Three Musketeers, and prove they don't have to be performed classically, and that a nod to the story is all it takes to create something spanking new. Dracula, the Bloody Truth, has risen from the undead, but it seems new every time.