Falling at the Exeter Phoenix Review
A revived relationship sinks into the hole once more
Theatre Alibi & Exeter Phoenix
March 2019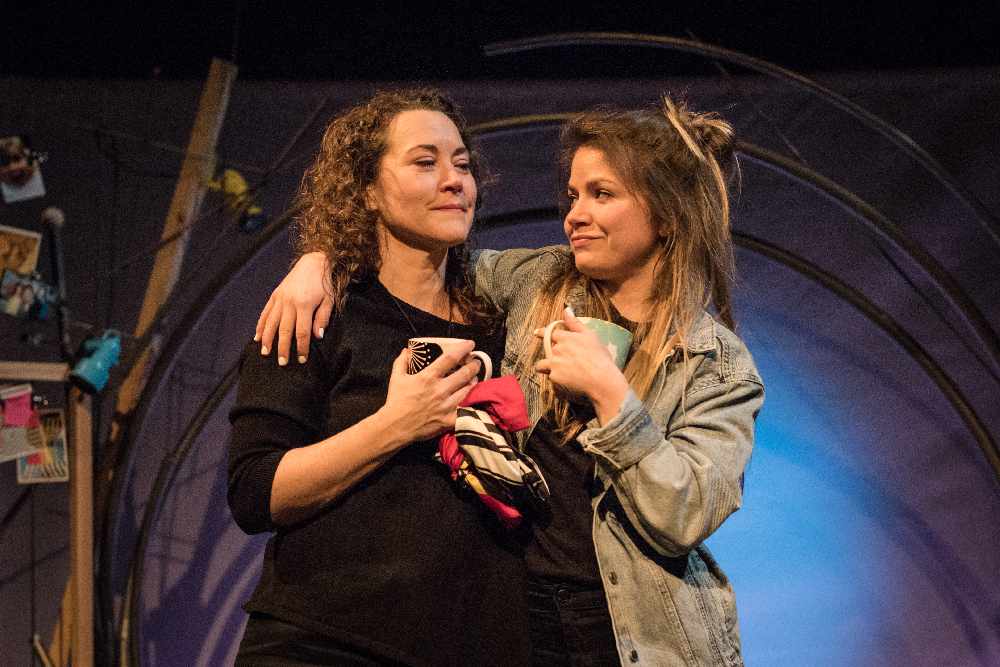 Claire (Jordan Whtye) on the left, Alice (Anna Wheatly) on the Right
Review by Jamie Taylor
Local company Theatre Alibi returned to the Exeter Phoenix with a revival tour of 2016's 'Falling'. A sinkhole-related story written by Daniel Jameson, inspired by reports of sinkholes forming from old Cornish mineshafts. This time round, newcomer Anna Wheatly plays daughter Alice alongside Theatre Alibi's long-time partner Jordan Whyte, as her mother Claire.
Claire is an art teacher in sixth form college and daughter Alice, 17 is taking her A-levels hoping to study architecture at Bristol University. But when Alice falls into an unexpected sinkhole in their back-garden things take a turn for the worst. It all starts out as happy family, before any actual "falling" begins and the pair play a multitude of characters (and the narrator) in this two-women show. Their powerful performances throughout are heightened by musician Thomas Fripp who is a constant stage presence, playing electric guitar continuously. Projections add to the story visually to help us see Claire's artwork, or the characters' location. We also see a sparkle of Theatre Alibi's unique creative puppetry, helped by the performers, that at one point makes you feel sorry for a ball and a coat.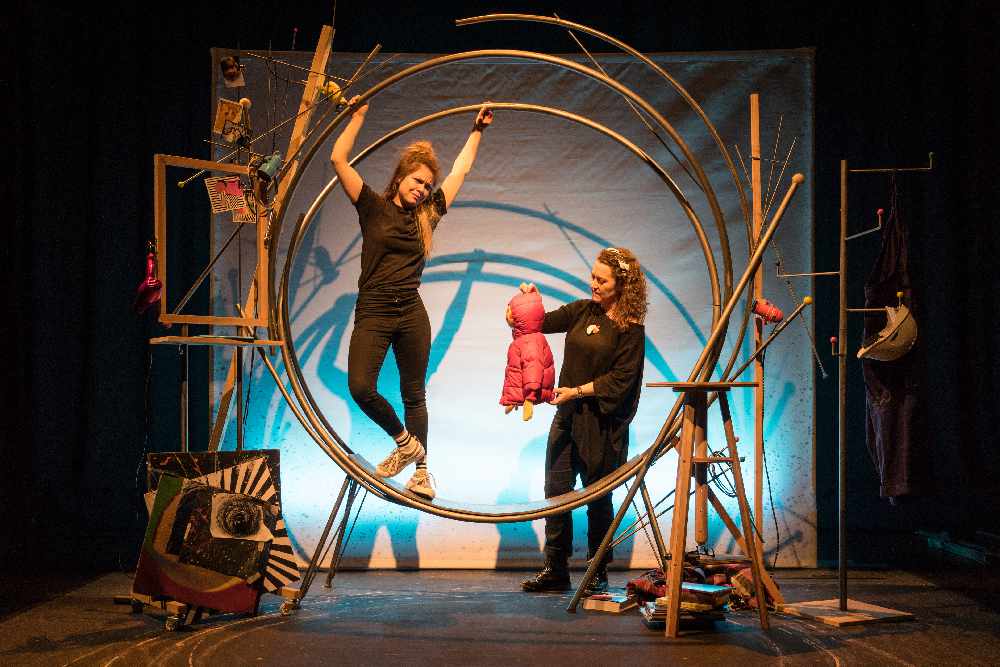 Claire is a typical mother that's trying to be cool, but failing, so is told off by Alice. Jordan Whyte has a pure way of showing raw emotion when Alice goes missing – bawling her eyes out then screaming, yelling towards a slightly uncomfortable and vulnerable audience which she conjures, her ad-libs adding comic value. She merges the two sides of her character so well – showing how comfortable and experienced she is with the role. Alice is a young, grumpy, moody and comical teenager, with funny looks to the audience as she is embarrassed by her mum. Again, she's screaming, yelling in the intense "falling" scenes before becoming suddenly scared, worried and less talkative.
The pair's vocal ability is evident, particularly as they sing over monologues – thus adding to the emotional atmosphere and spoken words. Devising a melody for the musician's constant guitar, is a nice touch but does let your eye wonder away from the main focus. This is not necessarily a bad thing, as you're able to see the workings of the show as they backstage is brought to the of the front. The piece has no smoke or mirrors with both actors sitting to one side of the stage before they re-join the action.
Despite the similarity of theme, Falling isn't Alice and Wonderland. It's much more than that and is for anyone of any age. It explores the ongoing, changeable and relatable relationship of mother and daughter. It deals with a child growing and the audience is "able to see through them like a bowl of water, but now them being completely opaque," as one line suggests. The whole piece is told in a creative, clever and unique way, and is back by popular demand.
Falling is now touring to Penzance, Oxford, Truro, Kent and Bath.