Flashdance The Musical at The Exeter Northcott
What a Feeling!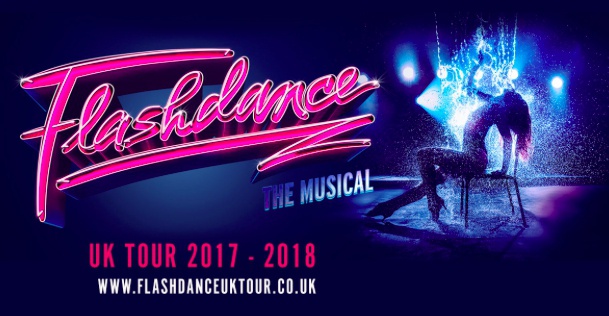 By Jamie Taylor
This stage production of the 1983 hit film 'Flashdance' by Sella Doors Productions and RunAway Entertainment transports the audience back to the 1980s from the start, quickly wrapping the storyline of 18-year-old welder Alex Owens (Strictly Come Dancing's dancer Joanne Clifton), as she aspires to become a professional dancer working part-time at a nightly cabaret. One night she meets Nick Hurley (played by A1 band member Ben Adams – the one who used to have floppy hair, later was in Celebrity Big Brother and whom was once named as Britain's most attractive man. It was some years ago).
If you were expecting a stereotypical cheesy American musical like Happy Days the Musical or Grease, you'd be wrong. The limelight is shared between the cast, allowing them to showcase their talents, so it's not just the Joanne & Adam / Strictly & boyband beauty show. They set the West End bar high, the routines are as breath-taking to watch and presumably need as much breath to perform, particularly as Joanne is on-stage almost throughout.
The show's not flawless. The band's sometimes louder than the singers: perhaps a technical, first-night glitch, but the show is touring internationally, so if it's a problem at the Northcott, it needs overcoming as the tour progresses. By the interval, it was fixed, so let's put it down to "one of those things." Irritating, but not the end of the world. If you can't hear the words, admire the footwork; have an ice-cream, and then all will be well in Act Two. The first night audience did get into it; on their feet singing to iconic numbers like 'I love Rock and Roll' and 'What a Feeling.' It's captivating, interactive and feelgood. If you don't want to sing along, you won't be able to resist tapping a foot or two.