Jack and The Beanstalk at The Exeter Northcott
Bennett's Back! Only this time doing the whole hog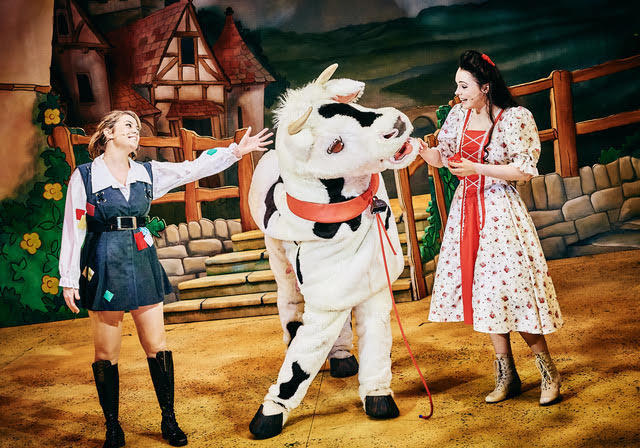 Jessie May (Left) and Victoria Luice (Right) pictured above with Daisy the Cow
By Jamie Taylor
It's that time of year once more - panto season! After the Northcott's revival of the panto tradition last year, famed Exeter Dame Steve Bennett returns. Only this time doing the whole hog; writing, directing and staring in Jack and The Beanstalk. He's Exeter's Orson Wells!
It's a pantomime with all the traditional hallmarks; audience anticipation, local references, cheesy jokes and screeching yelling 'behind you', all pulled off fantastically well. Bennett's put all his acting knowledge and experience into the pot and given it a good stirring; gathering a perfect cast to keep tradition alive. He's a wonderfully grotesque dame and frontman, keeping everything in order alongside a performance infused with personality.

Leading ladies Jessie May and Victoria Luice play Jack and Gill. They don't hit a wrong note, alone or together. They bring West End experience to Exeter, their rendition of A Million Dreams is beautiful and heart-warming. Local children play in ensemble sections. They may only be little, but they hit the same level of professionalism as the professionals. The Northcott is a community theatre, as well as a professional one, and bringing in Devon's youngsters is a central part of its work, and what better than a pantomime for them to reach a large audience.
Naturally, with this being Jack and the Beanstalk, a real giant makes an appearance , as well as a beanstalk of gigantic proportions. The only bugbare is visibility of scenery and ropes through the if you're in particular seats close to the stage. it's nothing major and I'm sure it can be tweaked – if the writer, director and star takes a quick visit to one of the seats at the sides; he'll see things he perhaps shouldn't....behind him.

Jack and The Beanstalk runs until Sunday 6th January 2019
HALF PRICE FAMILY TICKET OFFER ON THE RADIO EXE VOUCHER PAGE