Le Navet Bete The Three Musketeers at the Exeter Northcott Review
Le Navet Bete production at the Exeter Northcott
May 2019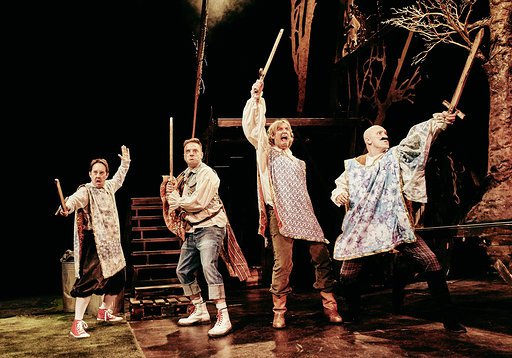 Review by Paul Nero
Four performers. Twenty characters. A hundred costume changes. Five hundred jokes, give or take. The Three Musketeers is back for its thousandth interpretation in its 175th year. Whether you're four or 104, this is one of the best you'll ever see, provided you value theatrical experience over literary provenance.
Exeter-based company Le Navet Bete launched their new production at the city's Northcott Theatre and packed the auditorium out. Rightly so, for this is a company with a growing reputation. It has thus attracted slightly more funding for this, their most ambitious show, although it doesn't start auspiciously. A lone male actor sings the introduction, off-key and miked up; and in minutes we're into a bit of out-of-character exposition of the 'how we met; why we're doing this show' sort; a matey but, as it turns out incorrect, "we're not very good so let us get our defence in first." However, once through a dodgy first five minutes, this is high-quality, finely scripted theatre treading a perfect line between pantomime and high farce. This is acting of a supremely high quality compared to the average drawing room work the Northcott routinely serves up; four men not long out of the flush of youth who, in the first week of this run, manage their material adeptly and bring character to farcical caricatures.
The Three Musketeers is one of those stories everyone and no one seems to know. We know there are three; an upstart D'Artagnan wants to be a fourth, but he's a squirt. But who, other than committed readers, remembers Milady de Winter, Cardinal Richaelieu or Louis XIII, who turn out to be as rich in this show as the Musketeers? Le Navet Bete not only bring marginal characters to life, these are the performances that command the stage. In the democratic tradition of much small-scale theatre, the programme notes fail to credit each actor with their character, but whichever actor gave life to criminally branded Milady de Winter, has created a femme fatale of substance. That this is an all-male cast of four playing multiple roles, young, old, male, female brings Pythonesque associations, and it's all the better for that. Some of the jokes pass over children's heads (the cardinal who spends his time in a cupboard, perving over other people's guilty secrets), whilst others pass over the heads of adults (a sequence I'm told alludes to computer games).
The only major downside is the amplification. There's little need for professional performers of this calibre to be kitted out with Madonna mikes. The Northcott holds 440 people in a modest auditorium. We should be able to hear perfectly well at the back. When one of the mikes suffers irritating technical trouble in the second act, it breaks the spell of the story. And when, for a while, the actor concerned had to perform without audible aid, he was perfectly able to do so. Clearly amplification, when it works, can help everyone in the audience hear better, but close microphone technology isn't always as good as it's cracked up to be. Ditch the mikes. The quality will not suffer.
Le Navet Bete's The Three Musketeers now tours to 13 venues, most of them for only two or three performances and most in the country's smaller theatres. This show deserves wider access. May it do well for this astonishing Devon company.
Find out all the tour dates here.