Tablemates at The Exeter Phoenix
Perfect for the little ones, but needs more on the plate for adults
Theatre Alibi at The Exeter Phoenix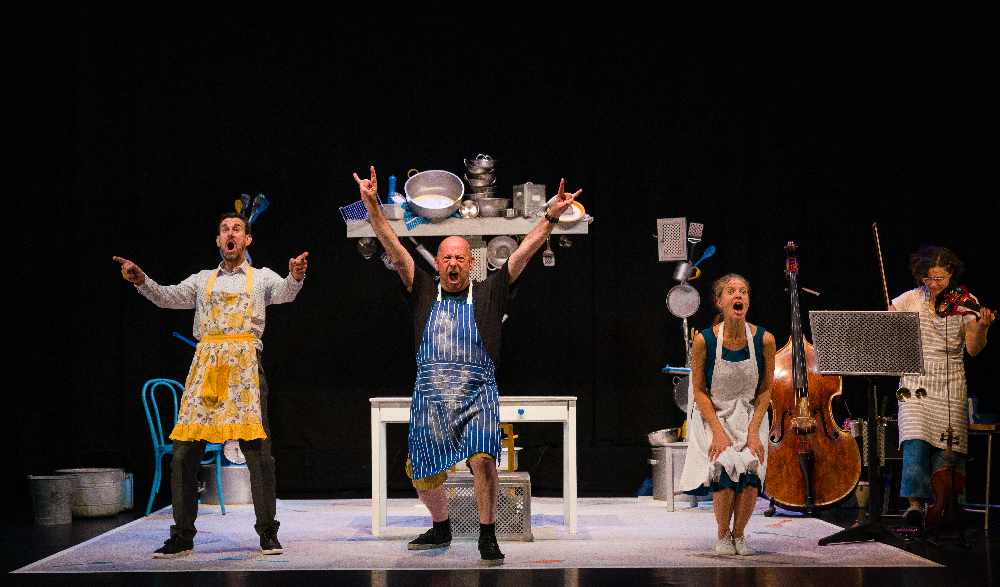 By Jamie Taylor
After touring around primary schools and getting the thumbs up from the kids, Exeter-based theatre company Theatre Alibi return to home soil to for a tasty afternoon's entertainment. Based around four friends (Nibbles, Starter, Main and Dessert) who live, eat and cook together, one musician and three actors take you on a journey which explores a slice of each character's past as you get to know who they are and what they like to eat. Director Niki Sived invites you into the piece with a brilliantly choregraphed section where the actors create sound effects for the food and interact with it, when in fact nothing is there, stretching you to use your Imagination. This continues through the piece, displaying the workings of this ingenious company.

The central point of this contemporary tale is, of course, the kitchen, and this is where the play starts and finishes. Trina Bramman's minimalist set focuses around this theme but doesn't d tract from the cast's comic and musical timing and the beautifully simple yet rapid multi-roles they take on throughout the story. It's visually pleasing and creative. For example, when Starter puts on a shower cap she becomes a dinner lady with deepened voice and scrunched-up face.

The musician is intrinsic to the storytelling. Nibbles (Emma Welton) creates a constant underscore through everything on stage, replicating the noises of food through violin or double bass and sets the tone and pace for the type of action reflected by the actors on stage.

Anything bad then? No not really because the only thing it lacks is quantity, it's just over an hour long: perhaps was perfect for a primary school performance, but a little more on the plates for adults would have satiated my palate.
Tablemates goes on to The Egg Theatre in Bath. Then back to school at Ladysmith Junior School, Montgomery Primary School, St Sidwells Primary School, Countess Wear Primary School and Pinhoe Primary School.