The Rocky Horror Show at the Theatre Royal Plymouth
Trafalgar square Theatre Productions
November 2019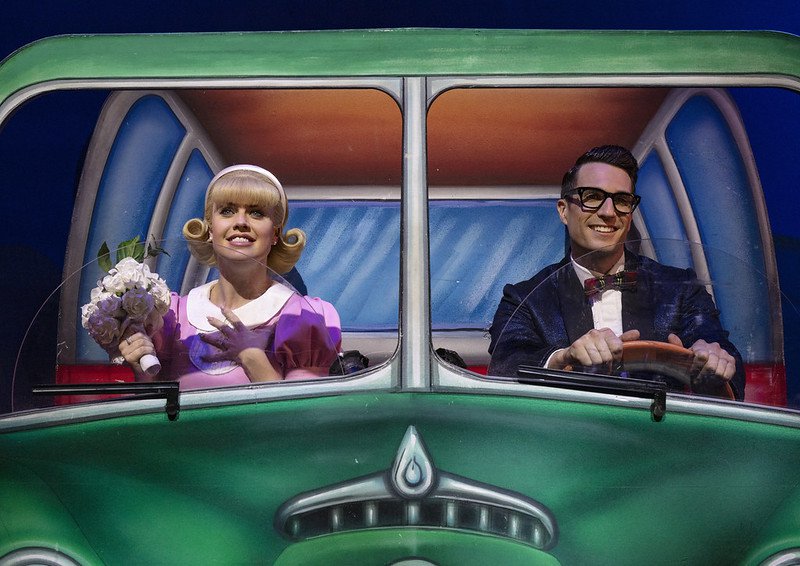 Joanne Clifton (Janet) and James Darch (Brad)
Reviewed by Jamie Taylor
It's crazy to think this Broadway failure, cross-dressing, Carry On-esque masterpiece all started over 40 years ago in a small studio upstairs at the Royal Court Theatre in London's West End. With its thrift-shop corsets and second-hand heels that soon turned into the cult classic film we all know and love just two years later after the curtain went up.
Now over 40 years on, the musical has been performed in more than 30 countries touring all over the world and still loved to this day.
And I mean loved. Plymouth's die-hard Rocky Horror fans were raring to go before the curtain even lifted. Dressed in fish net stockings and draping jet-black capes, shouting and heckling away (sometimes a bit too much) as we meet the American sweethearts Brad and his new innocent, sweet fiancé Janet. Played by the former Strictly pro Joanne Clifton.
Suddenly, Brad's car gets a flat tyre, leaving them stranded on a cold and wet winter's night. In search of a phone they both decide to try the castle they had recently passed to get help. They go in search of a phone but find themselves swept into the world of Dr. Frank-N-Furter, a transvestite scientist from the land of Transexual, Transylvania. And that's all you're are getting because the plot vanishes from there. It's loads of different ideas mashed up together. But somehow, you go with it and it does end up working – but you will be having long conversations about it on the way home.
Stephen Webb does a fine job in portraying this deliciously grotesque loveable beast. He's entertaining as he steals the show from thenceforth with the entrance number sweet transvestite. A joy to watch with his masculine, charming tone and deep subtle laugh showing Frank-N-Furter's dark side that seduces everyone in castle. When the virginal confused couple Brad and Janet stumble through the Time Warp, it leads to the funniest scene where even the actors crack up, were extended touches and adlib phrases seems to be allowed.'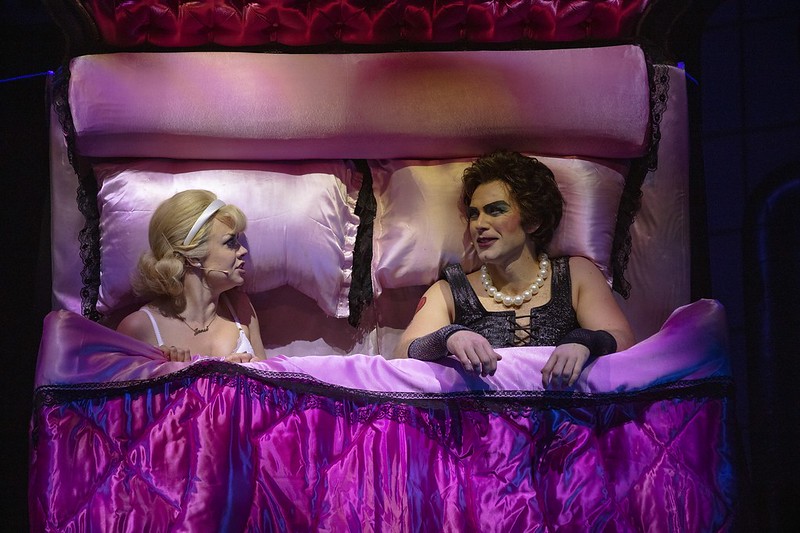 "I'm afraid so, Janet. But isn't it nice?"- Image: David Freeman
We do have a narrator which helps anchor the show, aiding you through this mind-boggling plot. Philip Franks is fantastic, flinging back any of the cult's shadow casting or rehearsed call backs. He maintains a good level of silliness and participation but quickly gets everything back on track.
As for the rest, they all have very impressive vocals and play believable characters from their very close interpretations of the film. However, Miracle Change who plays Columbia can't be heard. Her high pitch squeaky American accent means you can't her words – it's unbelievable how in only the last few weeks of the tour it's not been sorted. And if we're being picky there seemed to be a few parts where the band were louder than the actors, but it's something the Lyric can easily tweak for its second night.
What should you expect then? Well, the plot is all over the place, but the music is great and before you know it, you'll be out of your seat flinging your arms in the air as you do the Time Warp especially during the reprise. It's naughty but it never crosses the line, demonstrated by the range of people who attended tonight, who all stood up when it was Plymouth's turn to host the Science Fiction Double Feature Picture Show.
Ps. Mild heckling is part of the fun; however, the toast, rice and water pistols aren't.
The Rocky Horror Show World Tour 2019 runs in Plymouth until Saturday.