The Wipers Times at the Exeter Northcott
October 2018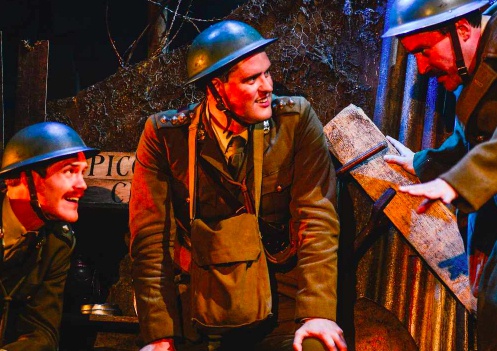 By Paul Nero
Two months ahead of the centenary of the armistice, a Great War story comes to the Exeter Northcott; the stage version of The Wipers Times. Ian Hislop and Nick Newman's adaptation of their own successful TV production has attracted sizeable and, by and large, appreciative audiences through the week. It's entertaining, as stylized as it is stylish, and, even with the misery of the trenches as its main set, is pleasing on the eye.
Wipers, the squaddies' tongue-in-cheek pronunciation of Ypres, the front line, forms the basis for a satirical paper and, what ho!, when an antique printing press emerges on the front line, the pals have something to chuckle about. The Wipers Times: mutinous magazine.
As background for the gags emerge front stage, pantomimic pastiches illustrate them behind. It's very music hall, see-you-at-the-end-of-the-pier comedy in places, and there's nothing wrong with that. Tackling any subject where others have prominently stepped before is inevitably going to draw comparisons, and here it is to the 1980s' TV perennial Blackadder Goes Forth or further back Richard Attenborough's 1960s Oh What a Lovely War (few of us now recalling the Joan Littlewood stage play on which that film was based).
So, all the elements are here. A story canvass as huge as the Great War; satire royalty writers; and impressive production. On the downside, there's something lacking in characterization. Only three roles of the 10 have depth, and arguably although that's not vital in satire, it is in drama. However, there's not a lot of drama here. It's characterture more than character. Lions led by donkeys personified. Pompous sergeant majors. Thick squaddies. They're all here, hun.
So is poignancy. Elements, occasionally bordering on the didact, more aligned to Hislop's excellent TV documentaries than Have I Got News for You. The point is that people can laugh, even in the most horrific of places. Laughter redeems. If you think, as one characters says, the war is not funny, sir, you need to see The Wipers Times.
The Wipers Times: Trademark Touring and Watermill Theatre Production
In Exeter until Saturday 15 September, then moving on to Malvern. Leicester, Eastbourne, Brimingham and London