The Wounded King – Fragments of Arthur for Our Time at the Exeter Fringe Festival
The Wounded King – Fragments of Arthur for Our Time at the Exeter Fringe Festival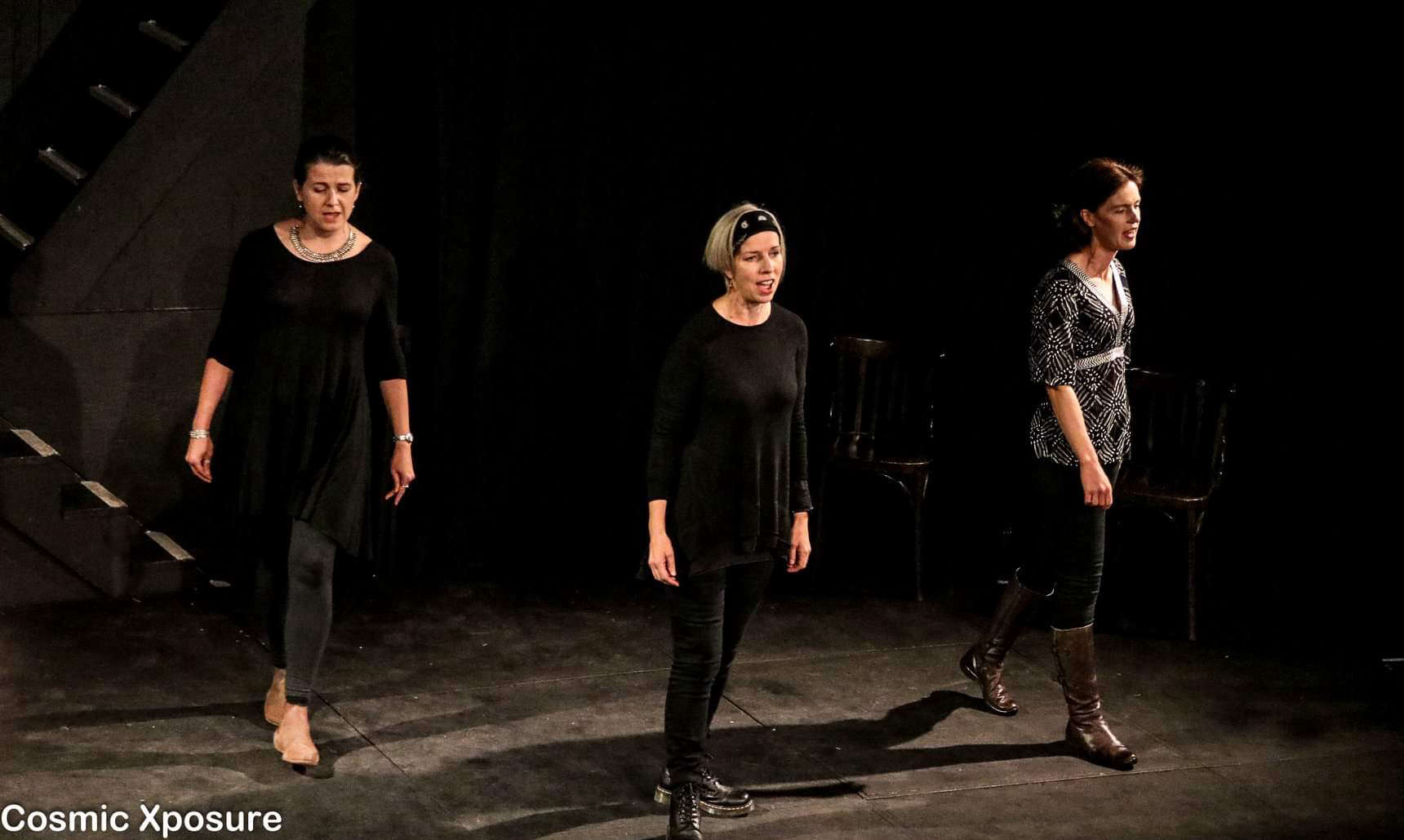 Review by Katrina Tudlong
On a well-lit stage, two chairs are snugly placed in a corner at the right. As the audience filters in, a muted recording of birds chirping and creaks trickling subtly sets the tone for traditional, campfire storytelling.
The Wounded King – Fragments of Arthur for Our Time encapsulates this essence of storytelling and provides a warm, cosy atmosphere for the audience to take comfort in. The storytellers – Ronnie Conboy, Katy Cawkwell, and Lisa Schneidau – regale interwoven parts of Arthurian legends to an expectant audience.
Once the audience have settled in their seats, Ronnie Conboy steps forward to address them. She begins the storytelling evening by recalling momentous events throughout modern history. These events have found similar echoes in Arthurian legends. She lightly touches upon how war, misfortune, personal strife and love are firmly intertwined in reality and fiction.
In Katy Cawkwell's legend, a young Arthur is portrayed to be naïve and full of curiosity. Undaunted by the consequences of his actions, Arthur falls for the seductions of Queen Morgause and conceives an illegitimate child with her, his son Mordred. To his horror, he discovers his seductress to be his half-sister and his son to be a traitor.
At the final culmination of Mordred's treachery, a battle ensues and both men are mortally wounded. Cawkwell deliberates the fate of each man by questioning their inability to communicate their differences with one another and how a misunderstanding can prove to be fatal.
Similarly, Lisa Schneidau's and Ronnie Conboy's tales caution the audience with rash decision making. Sir Percival, the protagonist in Lisa Schneidau's story, eagerly sets out on his quest to find the fabled Holy Grail. Upon stumbling across a foreboding castle, and a decrepit king, Sir Percival encounters the grail.
Fearful to question the grail's legitimacy, Sir Percival decides to leave the eerie castle and returns back to Camelot, doubtful. Years later, after enduring much hardship, Sir Percival ventures back to the castle and its forlorn king to confront the grail's true identity. Schneidau therefore proposes a duality of the grail's effect on Sir Percival and its influence over his decision making.
Conboy, the last storyteller of the evening, adds to Schneidau's cautionary tale by recounting the legend of a young man discovering the remnants of a rich, forgotten kingdom. Acting on his impulse to disrupt the kingdom's peaceful slumber, the young man is forcibly exiled and forbidden from ever finding the kingdom again. Conboy, like Schneidau, suggests how the kingdom's temptations clouded the young man's judgements and inevitably affected his decision making.
By and large, the Arthurian legends told and interpreted by Ronni Conboy, Katy Cawkwell, and Lisa Schneidau evoke a yearning for traditional storytelling among audience members.
Whether that relates to the parable-esque interpretation of their stories or the simple pleasure in engrossing oneself in the rapture of their storytelling abilities, Conboy, Cawkwell, and Schneidau are successful in bringing Arthurian legends alive again in a fast-paced, modern age.
The Wounded King – Fragments of Arthur for our Time is the first collaboration of Ronni Conboy, Katy Cawkwell, and Lisa Schneidau. Performed at the Exeter Fringe Festival from October 11th to October 17th 2021.