Charity Fashion Show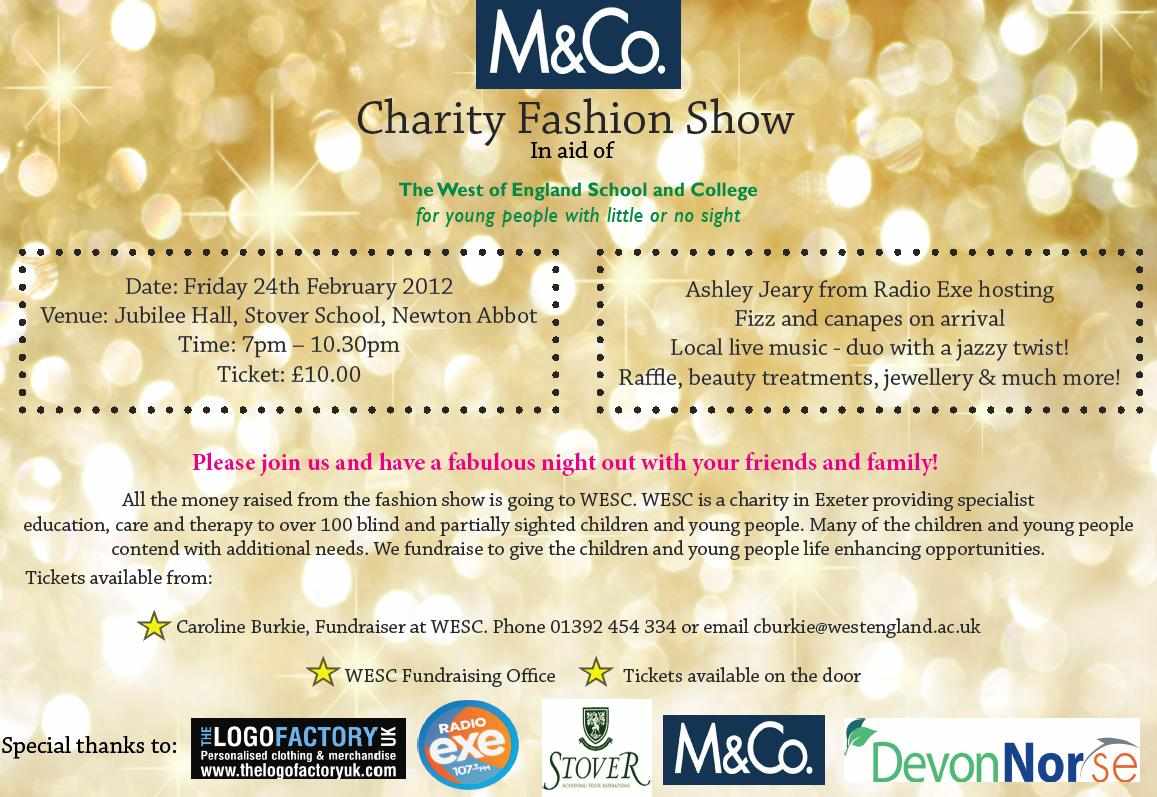 Bring out the fashionista in you, your friends and family on Friday 24th of February between 7pm-10.30pm in the Jubilee Hall at Stover School for an amazing M&Co fashion show raising money for blind and partially sighted children.
Tickets are just £10.00 and every penny is going to the West of England School and College for young people with little or no sight (WESC), a registered Exeter charity providing specialist education, care and therapy to over 100 children and young people with visual impairment and addition needs.
On arrival you will receive a glass of fizz and some delicious canapés and before the fashion show kicks off you will have time to catch up with friends whilst sampling some wonderful relaxing beauty treatments.
The M&Co fashion ranges showcased throughout the evening include men, women, teen girls (Kylie range) and under 12's.
Models will take to the stage with a helping hand from Radio Exe's Ashley Jeary the host for the evening!
During the intervals you will be served a musical feast courtesy of Rose Erangey and Kyle Norgate, two members of The Jesse Dansons, bringing you jazz delights while you make sure you've bought your raffle tickets to be in with a chance of a family photo shoot thanks to Ian Southwell Photography, a 3 hour spring clean thanks to Butler Maids, or perhaps you'd prefer to a bespoke ski jacket thanks to The Logo Factory! There are many wonderful raffle prizes up for grabs.
This un-missable night out needs your support.
Buy your tickets today from the WESC Fundraising office, phone 01392 454334 or e-mail: cburkie@westengland.ac.uk
Tickets are available on the door but it is strongly advised to call and reserve your seat in advance to avoid disappointed.
This promises to be an amazing evening with all the proceeds going directly to the blind and partially sighted children and young people at WESC to give them vital life skills, confidence and independence.
Come along with your friends, family and children for a great night out!