Summer Advertisement Offer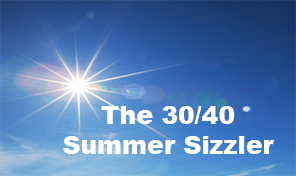 Summer's almost here, and the temperature's rising, just like the Radio Exe audience - where listening is 30 per cent up on last year. So because of this we're celebrating with a sizzling 30/40 deal - a special opportunity for local businesses to get on the radio. Your radio. Radio Exe. Reach a bigger local audience - 30 PER CENT BIGGER on the only commercial station that's Made in Devon, all day, every day.


For one day only - Tuesday the 9th of June - you can book up to 40 PER CENT MORE COMMERCIALS for the same price.


The 30/40 Summer Sizzler from Radio Exe. Such a HOT deal you have to listen at 9am on the Tuesday 9th June – this opportunity is only available to 10 local businesses


Your business could be sizzling – 9am on Tuesday the 9th June – then call Exeter 01392 823557.