School Of Rock Review
By Andrew Lloyd Webber, Julian Fellowes and Glenn Slater
At Theatre Royal Plymouth - May 2022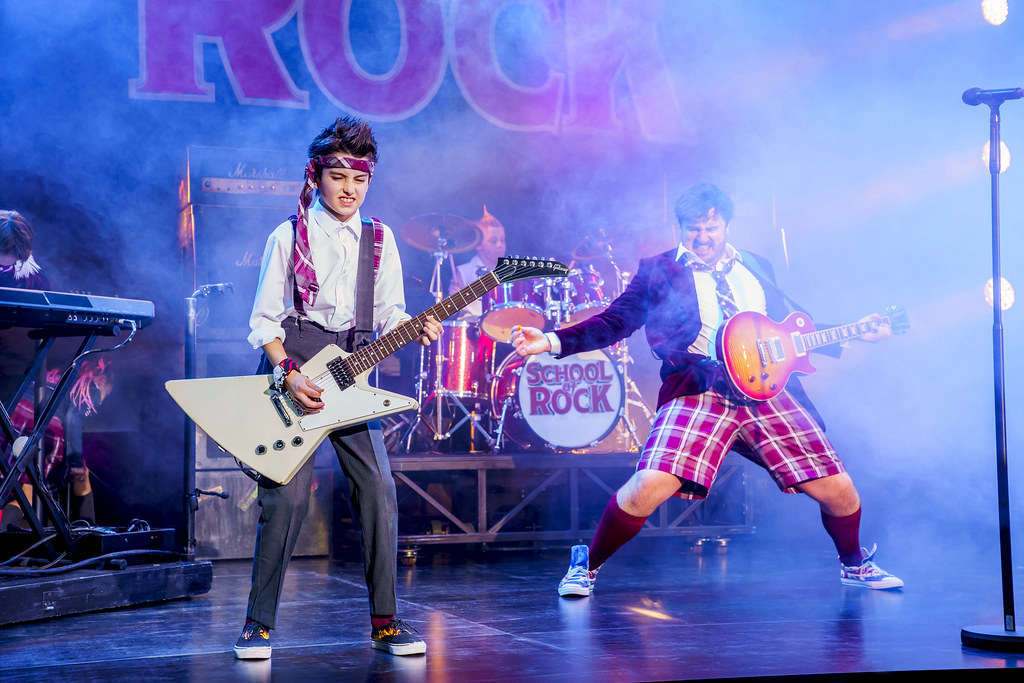 They're in the band (image courtesy:Paul Coltas)
By Paul Nero
The film is almost 20 years old and has become a classic, not least for unleashing burping, slovenly, reconstituted rocker Jack Black to a wide audience.
The much-later stage show, adapted by English creative aristocracy in the form of Lord Lloyd Webber (Cats, Phantom of the Opera, Joseph et al) and Baron Julian Fellowes (Downton Abbey, Gosford Park et al), is rapidly becoming a theatrical classic too; opening in New York in 2015, in London a year later and now, for the first time, on tour in this country.
The theme is familiar. Idiosyncratic teacher inspires a group of children to exceed their expectations. The twist here is that the youngsters are the goody-goodies and the teacher is the fraudulent waster.
Star billing, if stars there should be, deserves to be shared between children and music teacher.
The whole show rests on the talents of the performer playing teacher Dewey Finn, which falls in this tour on the not inconsiderable shoulders of Jake Sharp, whose CV shows him to be a little light on experience. So it may be an inspired gamble – but this is a show that really doesn't need stars, only presence, timing and talent, and he has it in bucketloads, out Jack Blacking Jack Black.
Not many performers, Giant Haystacks and Big Daddy aside, and they've been dead 30 years, would be happy slapping their belly around and picking fluff out of their belly-button in front of an almost sold-out 1,300-strong audience.
Jake Sharp does, as well as leaving teeth marks in the cheese. In real-life, an actor, a musician and a teacher, he rocks.
As do the students of posh Horace Green Academy, an American prep school; children not much more than 10 to 13 years of age. They're the others who, along with their band, the eponymous 'School of Rock' should be in lights. Twelve youngsters per performance; three sets of children for the tour, including 10-year-old Harry Churchill from Bovey Tracey, who took on the role from his older brother.
Like the film, this is a show for people of all ages; children to pensioners, as long as they're prepared for a little rock 'n' roll. This is no sugary traditional musical. It's a hit show with rock - admittedly with an added bit of sugar when fake teacher Dewey runs off with the head Miss Mullins (the excellently poised Rebecca Lock).
As for the children, they change by performance; but there's not a dullard in class. For press night, sing your hearts out Eva McGrath, Ava Masters, Oliver Forde, Harry Churchill, Aadi Patel, Ziana olarewaju, Kaylenn Aires Fonesca, Layla Pages, Souparnika Nair, Nesim Adnan and Liza Deikalo.

Hear a Radio Exe interview with Harry Churchill and Jake Sharpe here:

School of Rock's UK tour continues at Bristol, Cardiff and nine other venues, ending in Bournemouth in August.