The Solve-IT Pride of Devon Award Winners 2015


The Solve-IT Pride of Devon Awards 2015
To continue to browse through previous years of 'Pride of Devon Awards' click here: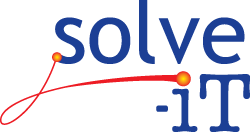 Pride of Devon 2015 winners are: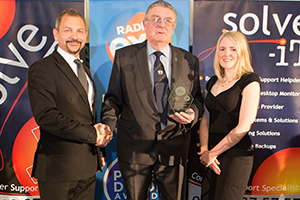 The Pride of Devon Lifetime Achievement Award with Exeter City Council
Ronald Crabb BEM of Heavitree
Ron Crabb is a former marine who has not only served around the world, but has the distinction of becoming a bodyguard to Lord Louis Mountbatten. After military service, he went into public service as an officer at Exeter Prison. He holds the Imperial Service Medal, presented by Her Majesty the Queen and, more recently, the British Empire Medal. As well as a lifetime of public service, Ron's been a Football League referee; he took charge of matches involving stars like George Best and Bobby Moore. Today he remains heavily involved in the community. Ron is part of Heavitree Social Centre, White Ensign Club, a supporter of Exeter Scouts and a mentor for new Royal Marines at Lympstone. He's the welfare representative for the Exeter Branch of the Royal Marines Association. Ron became a Mace Sergeant at Exeter's Guildhall over 20 years ago and is the current head warden for the Guild of Mace Bearers.
Teacher of the Year with Solve-IT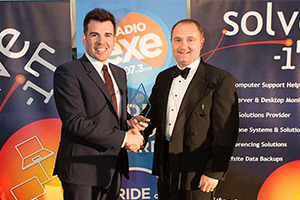 Jamie Wordsworth of Exeter
Jamie believes a better community starts with a great education, and he works hard to make school engaging, supports the vulnerable, as well as those who excel at science.
Jamie has been rated 'outstanding' by Ofsted in his last two reviews. In addition, He has been nominated by his previous head teacher for "Teacher of the Year" in the National Teaching Awards.



Community Sport Award with Atass Respect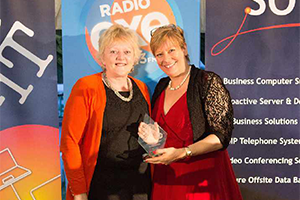 Sharon Hawkins, of Crediton
Devon Racqueteers is now the largest wheelchair badminton club in the country, plus Badminton England's club of the year, and has thrived under the leadership of Sharon Hawkins. Two of the players she has coached represented England in the para-badminton team at the European Championships and many others have won medals at competitions at home and abroad.



Child of Achievement with Trinity School, Teignmouth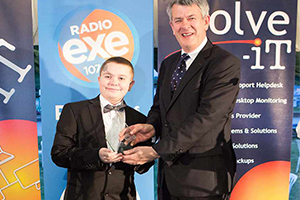 Bradley Oliver of Chudleigh
Bradley suffers from a condition called postural orthostatic tachycardia syndrome and autonomic nervous dysfunction, which means he shouldn't get hot or cold. In spite of this, and the allergies brought on by his conditions, Bradley loves to bake. Last year he raised £2,000 for charity. His efforts came to the attention of the Queen and he was invited to bake a cake for the royal household at Buckingham Palace.


Environmental Award with Coastal Recycling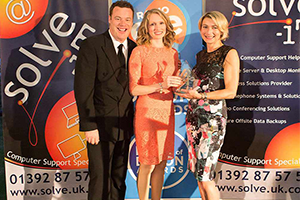 Jo Pearce, of Kennford
Jo's mission is to make her employer, Exeter City Council, energy neutral, or, even better, to be a net contributor to providing energy to the national grid. From improved water management in council loos to putting canopies on the top of car parks to take solar panels, Jo is always thinking "out of the box" to save energy.



Community Contribution Award with Travellers Rest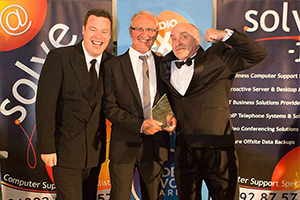 Mike Muir, of Clyst Honiton
Mike Muir nudges people into working parties to trim hedges and keep the grass gleaming on the parish field, whilst he is out litter picking twice a week. Mike played a central part in creating the village's first fete in 50 years and he's brought people together, so that new friendships have been forged.



Young Farmer of the Year with Veitch Penny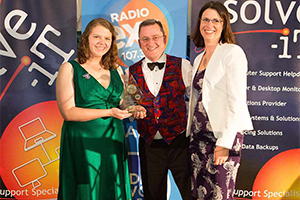 Caroline Trude, of Clyst Hydon
Caroline is the chairman of the Devon Federation of Young Farmers' Clubs and also works on the family farm and at the Vale Veterinary centre. She organises events to promote the region's healthy livestock initiative and has represented the UK at the first World Youth Agricultural summit in Canada in 2013.



Carer of the Year with Select Homecare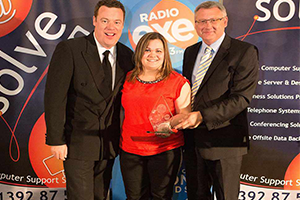 Hayley Pick, of Cullompton
"Hayley should wear a halo," according to her grandmother. That's because she's caring for people at both ends of the age scale and with very different needs. Hayley has fibromyalgia and chronic fatigue syndrome but in spite of this she still provides endless care for her grandmother, whilst managing a physically demanding job and a three year old son!



Neighbour of the Year with Tamar Security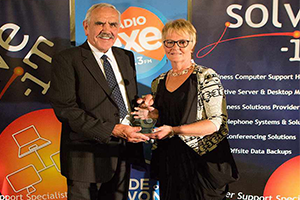 Ron Cardy, of Exminster
Ron Cardy is more than simply a good neighbour to the people next door (although he does like them too!), but he has extended his neighbourliness to his entire locality! He looks after pets, tends to homes whilst owners are away and offers a helping hand with any DIY anyone cares to throw at him.



Young Employee or Apprentice of the Year with Cartridges Solicitors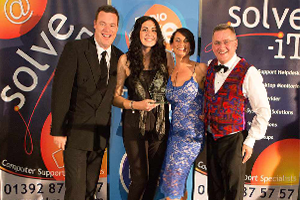 Annie Corcoran, of St. Thomas
When Dee Bainborough opened her own hairdressing salon, DB Comb, last year, apprentice Annie stepped up to take on numerous jobs; painter, decorator, receptionist, head of stock control. All whilst attending every training opportunity made available and studying for her NVQ3.




Parent or Guardian of the Year with Inter-line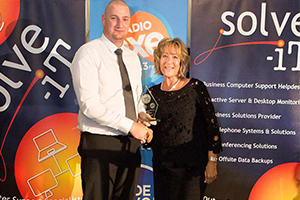 Karen Dunning, of Dawlish
"Everyone says it, but I really do think my mum is the best," says her daughter Katie, one of four siblings ranging from 18 to 41 that comprise the Orchard offspring. Karen's a phlebotomist at the RD&E, and although recently re-married, helped her children through the painful experience of the loss of her first husband to cancer earlier this year.



Volunteer of the Year with Devon County Show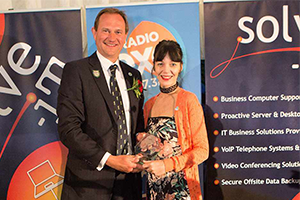 Gina Awad, Exeter
Dementia is a growing issue that affects families throughout the country. Unlike many cities, until recently, Exeter didn't have a Dementia Action Alliance. That changed after Gina Awad became a Dementia Friends Champion. Gina's played a key - and voluntary – part in
generating awareness and making a difference. This year, just before the awards, she walked the Great Wall of China, raising funds for the cause.




Grandparents of the Year with Radio Exe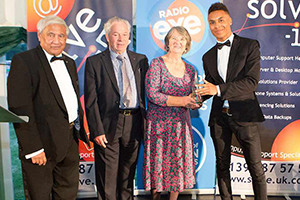 Nick and Dorothy Axon

After Dorothy's first husband sadly passed away, Nick has brought happiness back into her life. This year they celebrated their 25th anniversary and the birth of great-grandson Rory. Ella says that, as well as being inseparable, they never let her or her brother down - they're there for every event in which their grandchildren take part!