Bat Out of Hell - The Musical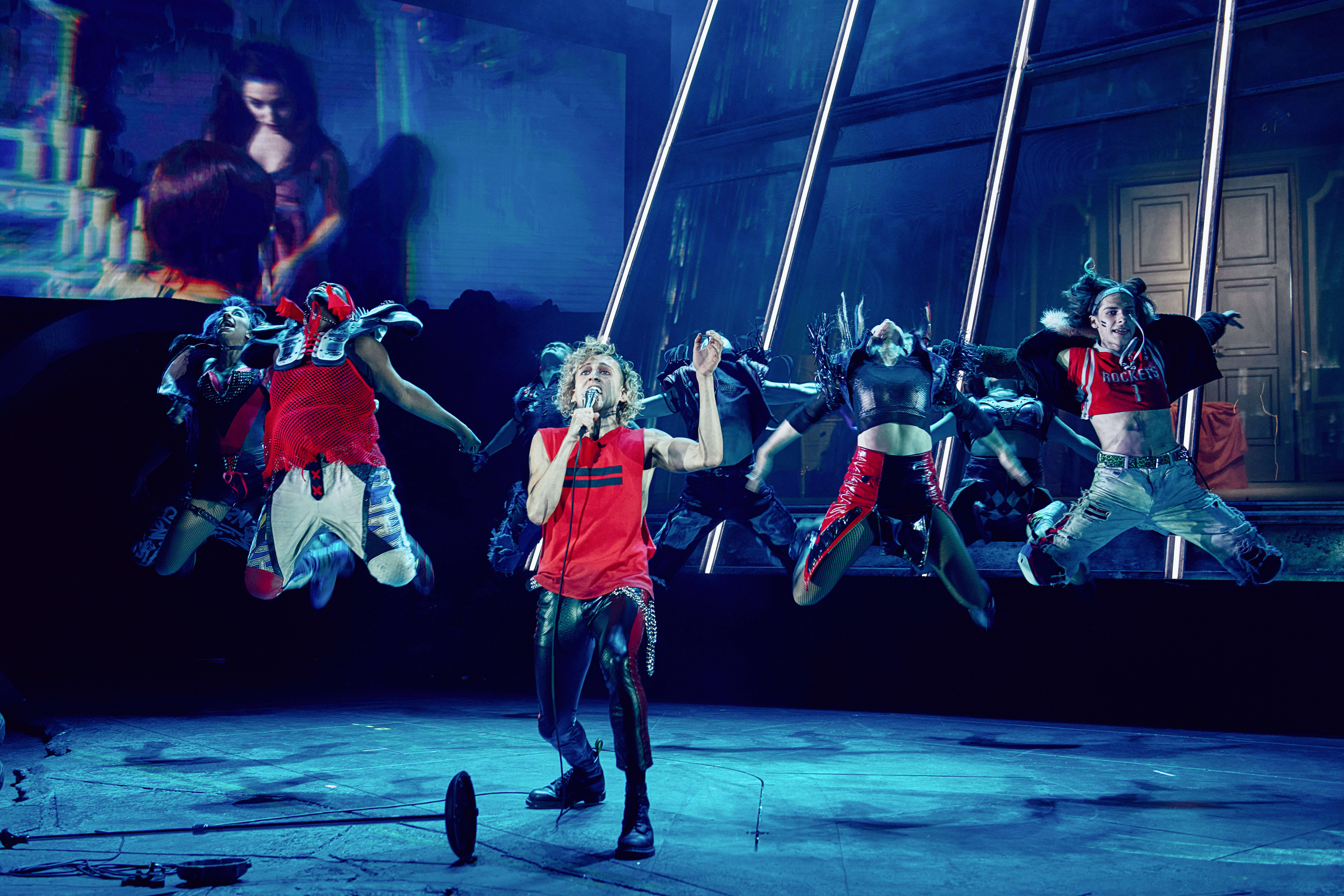 Glenn Adamson as Strat Credit: Chris Davis Studio
Review by Paul Nero

It takes a something a little unusual to change the normal make-up of a theatre audience and skew it towards middle-aged men, many of more generous proportions, some with more hair than others, and lots of them gassing about the age they were when they first heard the album (12, since you ask).
That's what Meat Loaf musical Bat out of Hell does for an auditorium.
A display of bikes, some adorned with bikers, greeted the first night audience trying to get in (the Theatre Royal still insists on a covid kind of protocol which keeps its patrons standing in the street, come rain or blazing sun, until barcodes have been scanned).
Inside, firstly the performers belt out the tracks with an energy that nearly out-Meatloafs Meat Loaf.
Then the theatrics span flamethrowers, violence, sex and flashing images – everything you could wish for, in fact.
But the story, 'boy-meets-girl and parents-don't-like-it' thin in places, is a bit slow when they're not singing.
Still, two out of three ain't bad.
This is Peter Pan meets Stranger Things territory; a boy permanently stuck aged 18 in a dystopian underworld enjoys the sins of the flesh with a girl whose parents know all about paradise by the dashboard light.
Raven (Martha Kirby) is barely 17 and in love with Rik Myall lookalike Strat (Glenn Adamson) but Raven is mortal, so destined to age then die. And for those of us who bought the album at 12, and who are now the wrong end of their fifties, can chew on that as the cast rattle through the back catalogue.
But it does mean there's pathos and tenderness in the performances, as well as raucous sing-along-a-Meaty madness.
It's a dance-along too. The supporting cast are seriously impressive dancers as well as singers.
The older generation, Falco (Rob Fowler) and Sloane (Franziska Schuster), mix the comedic with an undercurrent of threat, in a 'my kids don't understand me/should do as they're told/what's become of me' subplot, to remind those in the audience that when they first heard most of these tracks they were teens complaining about their parents; now they're parents complaining about their teens.
The sci-fi story won't satisfy everyone – just as it doesn't for Queen fans at We Will Rock You.' And that show has been a massive West End and touring hit for 20 years.
It's the power of the Jim Steinman/Meat Loaf music combined with the strength of the 2022 performances – and they are both unquestioned in this production - that make it worth a night out.
If that's not enough for you to buy a ticket and let mother nature do the rest, the producers are dedicating this tour to the memories of Steinman, who died last year, and Meat Loaf, who passed away early this.
And for the rockers at the Theatre Royal who will remember Bat out of Hell as a defining soundtrack forever, if the standing ovation is anything to go by, Meat Loaf is their dead singer for life. And possibly beyond, come heaven or hell.

Bat out of Hell – the Musical
Produced by David Sonenberg, Michael Cohl and Tony Smith
Theatre Royal Plymouth until Saturday 23 July, then touring.
Next nearest south west venue is Bristol from 9 to 20 August.