Color Purple Review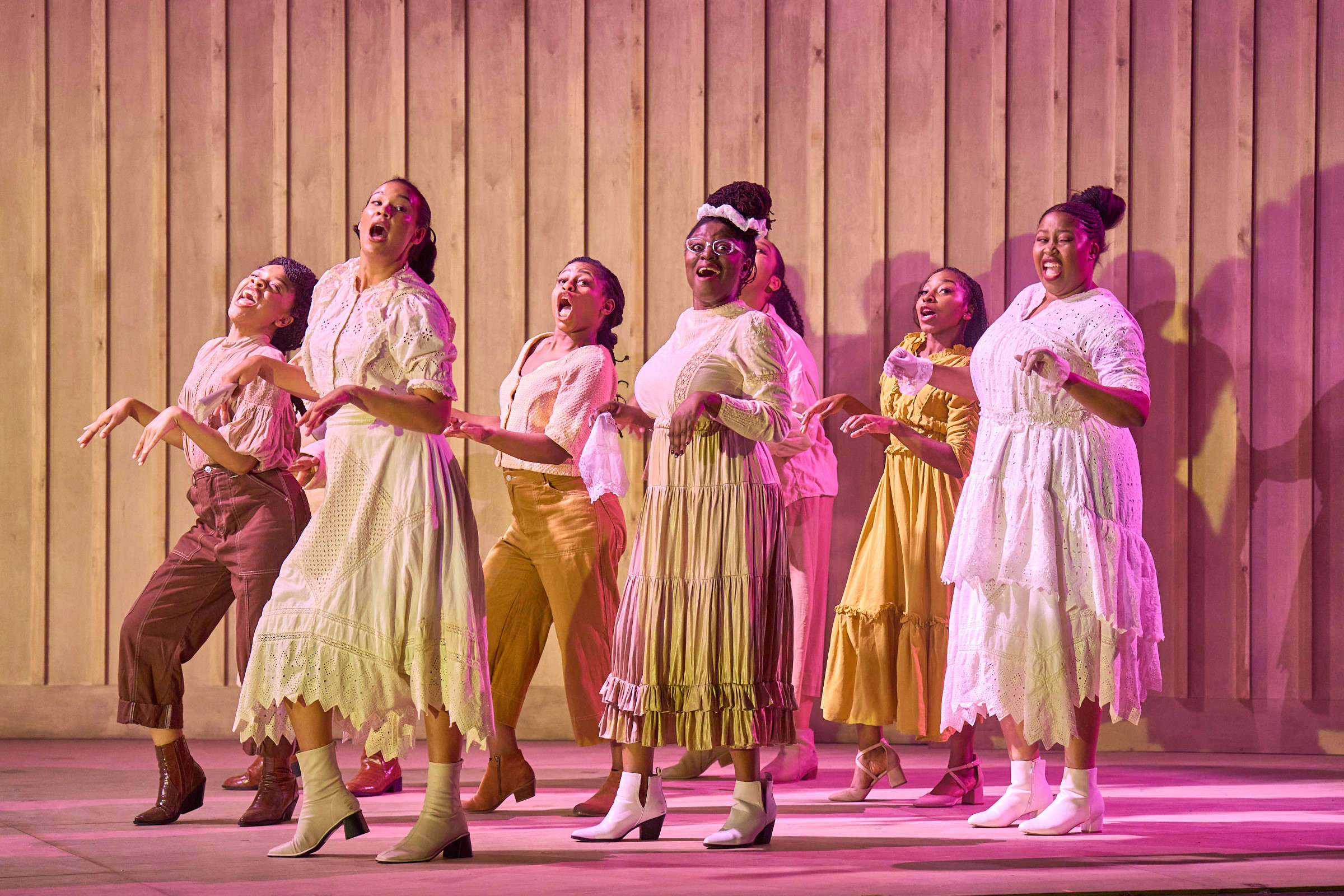 Review by David Marston

In these oh-so-troubling times, perhaps the vital thing to say about this dark themed musical is that in ends in a welcome blossoming of optimism, hope and happiness. You might not expect it from the start, and the journey is not an easy one, but in the end it lifts you. And for many people right now, the thought of any hope anywhere is something to be prized.
Some will know this story from the1983 Pulitzer Prize winning novel or the Steven Spielberg film - criticised by some for glassing over the novel's bleakest elements. It was nominated for 11 Oscars but failed to win any.
Be warned, racism, sexual and domestic abuse, physical violence and loneliness are all themes included in this and are not glossed over in the songs from trio Brenda Russell, Allee Willis and Stephen Bray or in Marsh Norman's book.
At the centre of the story is abused Celie (sensitive acting and marvellous voice from Me'sha Bryan). After having two children by her step-father - who then disposes of them, she is married off to an older man who needs a housekeeper and child-minder. Yes – it's that bleak.
Her gradual flowering from trampled victim into an independent and successful woman is slow and has many twists, and you would have to have a hard heart not to be with her all the way.
The triumph of this touring co-production from the Leicester Curve and Birmingham Hippodrome, is the female singing. The chorus work is great too, but there are some first rate solo spots here. And it's not just Me'sha Bryan. As travelling performer Shug Avery, sassily confident Bree Smith has great fun although perhaps the outstanding voice and performance is Anelisa Lamola as the confident Sofia, who won't be put down by the men in her life. Her journey is inspiring and shocking in equal measure.
Great numbers include crowd pleaser Shug Avery Coming' to Town, What About Love?, In Miss Celie's Pants and Celie's big song of self-realisation I'm Here. You're likely to feel good about all of them and more.
Ako Mitchell as the abusive Mister is a brooding presence although I wanted him to exude more menace while Ahmed Hamad as his son Harpo is has a happier role which he fills with infectious delight.
Designer Alex Lowde's bright, wide and spacious set seems at odds with the intimate and domestic nature of the story and there are points where I wanted director Tinuke Craig's production to be tighter. That said, purist fans will want every element of the great novel included.