Comment piece: Local democracy reporter sign off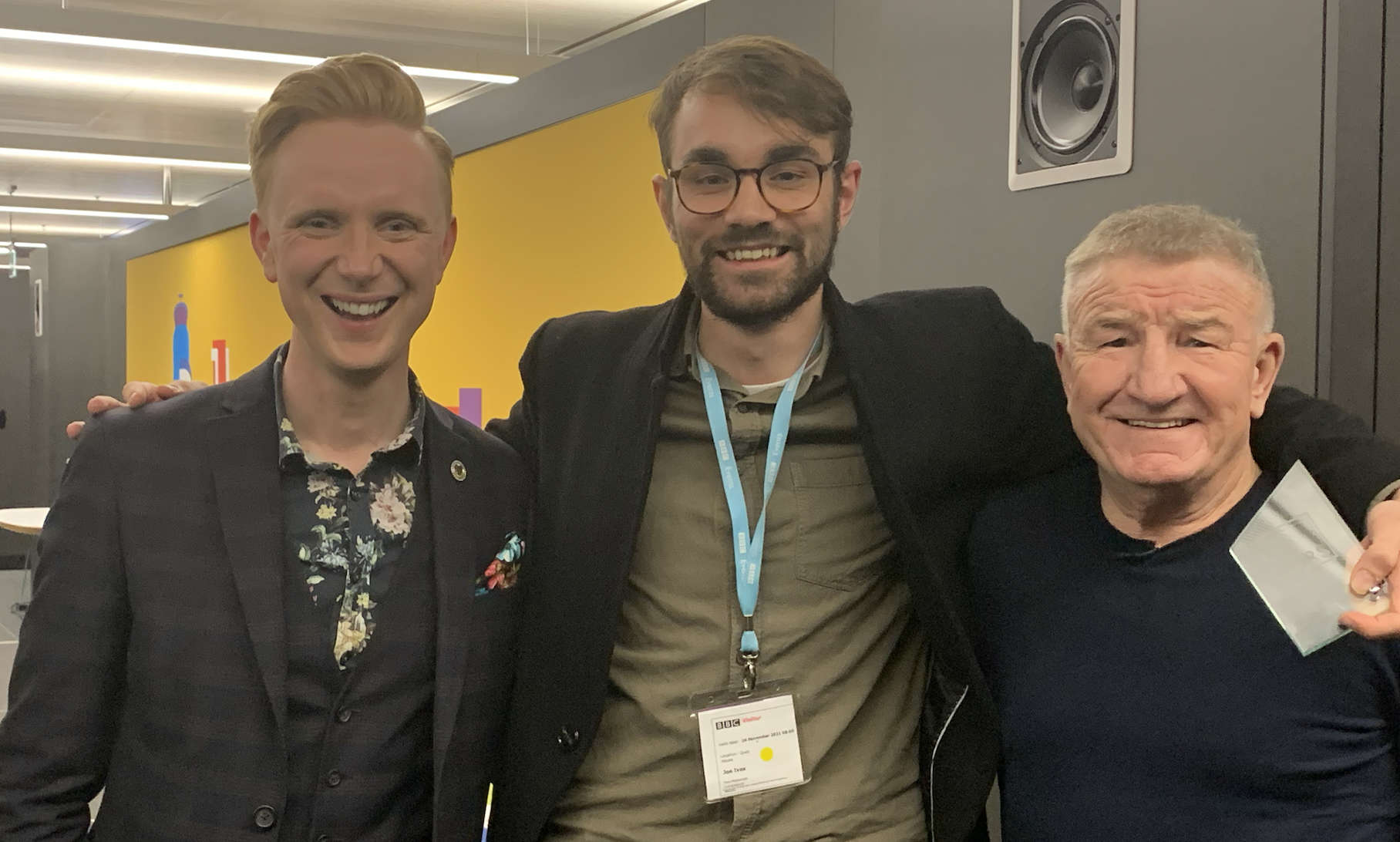 Local democracy reporter Joe Ives with BBC presenters Owain Wyn Davies and Mike Sweeney
Being a reporter is like being the scriptwriter on the best and longest-running TV series ever made: you drop in for a few seasons, get completely absorbed in the high-stakes drama and then have to leave well before the story is resolved.
If Devon's political odyssey has a screen equivalent, it's Breaking Bad: pitch-perfect tension with crucial issues and knife-edge endings, minus the meth labs and pizza-adorned roofs.
Accusations of "Putin-style" power grabs, blockbuster behavioural hearings and a porn-watching MP are just of the few dramatic scenes I've had an opportunity to capture as a local democracy reporter.
That's not how I had expected it to be. I feared mind-numbingly dull meetings in stuffy council rooms filled with councillors discussing the finer points of worthy but uninteresting matters.
At least that's the common opinion you might have of local politics from popular culture.
I won't say some cliché like "the reality couldn't be more different." There have been pulse-slowing planning sessions, virtual meetings about not much at all and hours spent trying to comprehend council documents written in prose possessing the density of dark matter.
However, my lasting memories of being a local democracy reporter (LDR) will not be of any of this.
The thing I will remember most is the privilege the role gives you. I have been fortunate enough to speak to people from every conceivable background and political persuasion and have been entrusted with the stories of remarkable people who have gone through some of the toughest life experiences imaginable.
Those of us lucky enough to be journalists may have encountered similar experiences and many will admit it's the best thing about the job.
What makes being an LDR so special is being able to focus on this aspect of being a journalist without being subject to the same demands of modern news: churning out unimportant articles to reach exponentially growing 'story count' targets, selling reports with clickbait headlines and keeping one eye page views.
With the way the local journalism 'market' now is these obligations have come to dominate, often at the expense of quality reporting. With fewer and fewer people paying for papers it's the only sustainable model available for many news outlets and particularly those with a focus on local stories.
Different LDR's at different publications will have to grapple with these issues to varying degrees but, ultimately, we are free in a way very few modern journalists are.
This was the BBC's ambition when it launched the LDRS scheme and you don't have to look far to realise what a success it's been.
I am constantly in awe of some of the stories my colleagues have uncovered across the country and the dedication and skill they put into their work.
I'm also constantly reminded of how I struck gold by being an LDR at Radio Exe. I couldn't have asked for better colleagues or for a better editor when the bullets are flying after a particularly controversial story.
Radio Exe is now looking for a new local democracy reporter to fill Joe's shoes. If you're a qualified journalist interested in working in a fabulous environment with close access to beaches and moors, email your CV to jobs@radioexe.co.uk