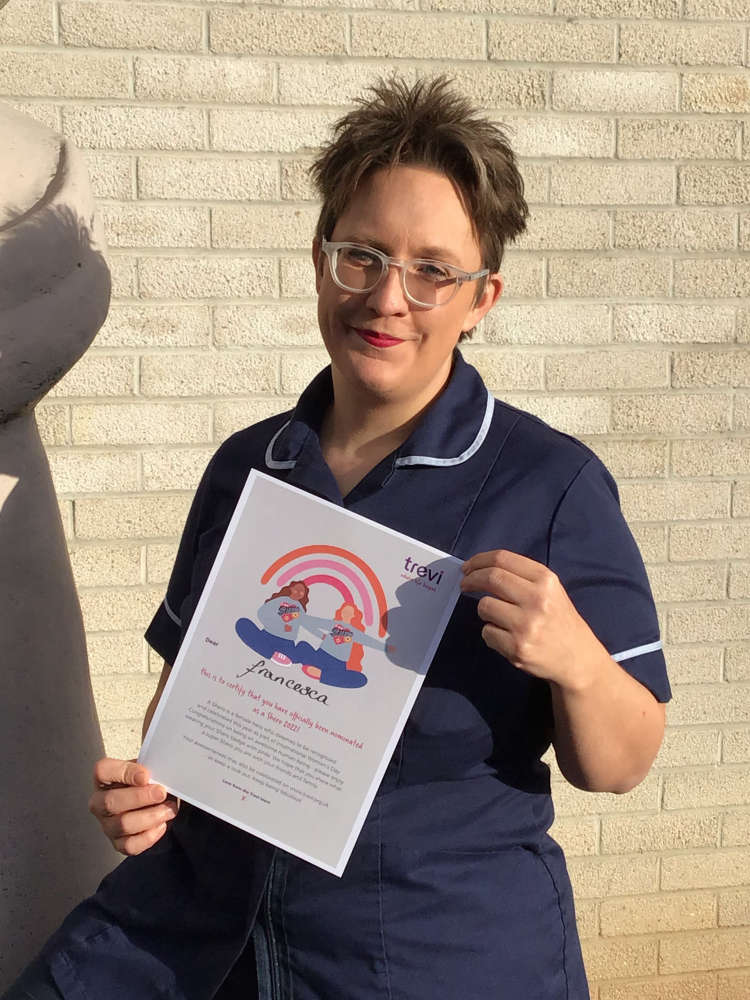 Francesca, nominee for 'Shero' (Courtesy: Katey Mcdonald)
For the second year running
In celebration of International Women's Day this year, Trevi, a Devon-based women's charity, is launching their popular Shero campaign for a second year.
A Shero is a female hero who deserves to be recognised and celebrated for social, economic, cultural and political achievements.
Nominations can be for any woman you know; your mum, your nan, your sisters, your best friend, your teacher, volunteers you know and even inspirational celebrities; the list is endless.
Francesca, a midwife at Derriford hospital, was nominated; she said, "It was such a pleasure, joy and a privilege to be nominated as a Shero this year. The important thing to say is that it's lovely that my name is on this certificate, but it actually belongs to every member of the maternity services."
"We have had a really hard couple of years, and we continue to go out of our way to look after women under our care because they deserve it."
The fundraising campaign will launch this week across social media channels, building up to International Women's Day on 8 March.
Trevi is encouraging a small donation to the charity for nominations who will receive a personalised certificate, message and badge to wear with pride. A selection of unique merchandise is also available to purchase, including Shero t-shirts, tote bags and hoodies. This year Trevi hopes to smash the 1000 nominations and £5000 donations they received in 2021 from across the world.
Hannah Shead, chief executive officer, says, "Our Shero campaign was a real highlight of 2021. We were overwhelmed by the support we received for the campaign and felt it added real positivity to what was a difficult few years for many."
"We believe there are many remarkable women out there who deserve a mention, not just for their actions during the pandemic but for who they are and what they do in their everyday lives. It is important to tell these women what they mean to us. Please get involved and let the world know how wonderful they are."
To nominate or donate visit https://trevi.org.uk/trevi-sheroes/