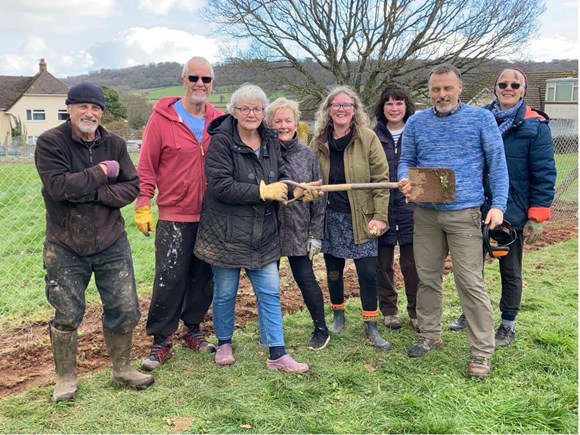 Local Sidmouth residents planting the Queen's Green Canopy (courtesy: East Devon District Council)
From the ground up
A group of local residents have joined forces with East Devon District Council (EDDC) to create a canopy of native and climate appropriate trees in the middle of the homes at Higher Brook Meadow in Sidford.
On Saturday February 5, the vision of local residents finally came to reality when a team of over 30 people turned up to plant the trees and create the first sizeable Queens Green Canopy on EDDC land.
The former bare patch of green space belongs to EDDC's Housing department and is managed by the council's StreetScene service.
Local EDDC councillor Marianne Rixson has been helping drive this innovative project forward from the outset with the support on the day of Housing Community Development officer Victoria Robinson.
Margaret Bullock, one of the local residents involved in the design of the scheme said:
"Council officers Paul Fealey and Alex Higgins have been instrumental in getting us to this point and this project would never have got off the ground without their involvement."
EDDC's acting service manager Adam Cornish said:
"We would encourage all residents who want to plant trees on their local green space to get in touch with us. Trees are beautiful to look at and spend time around, and help to capture the carbon back from the atmosphere."
The group of residents were very proud to see their newly planted copse being recognised for its contribution to the environment by its inclusion on the Queens Green Canopy digital legacy map.
Councillor Marianne Rixson, EDDC portfolio holder for climate action and emergencies added:
"The best part of this event was that it brought neighbours and the community together. In addition to the new tree canopy the new group are already talking about holding an event to celebrate the Platinum Jubilee later this year."
"The group is also looking to apply to our new one-off small community grant scheme to buy tools to look after the new trees and hedgerows. This project has been a win-win for all and I hope other community groups across the district follow their lead."