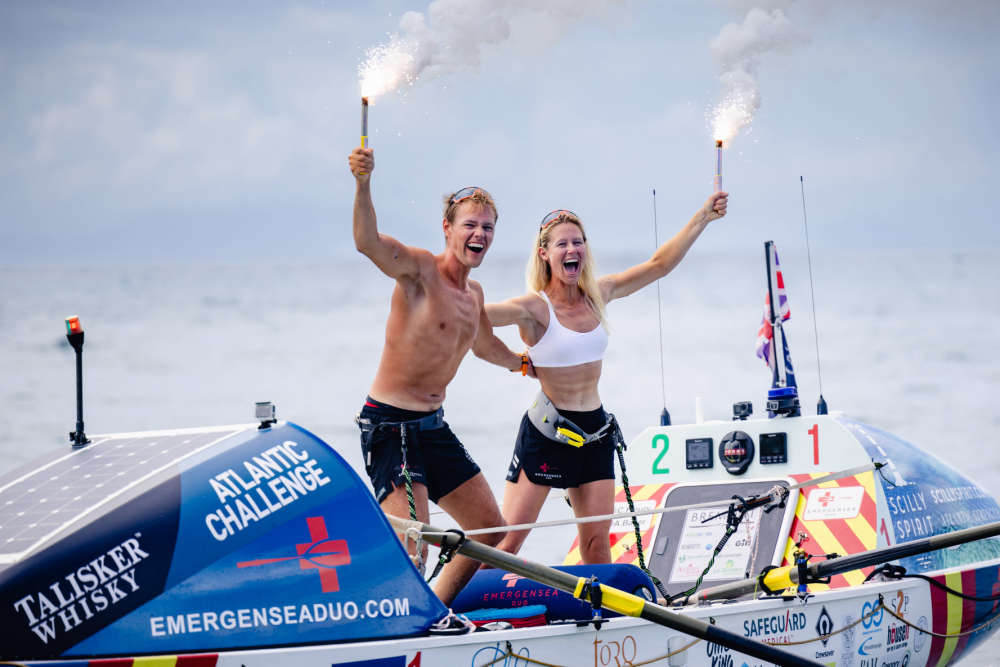 Charlie Fleury (Right) and Adam Baker (Left) (courtesy: Atlantic Campaigns)
3000-miles for charity
Two emergency medicine doctors from the Royal Devon and Exeter NHS Foundation Trust (RD&E) have completed an impressive 3000-mile row across the Atlantic Ocean in aid of four charities.
Charlie Fleury and Adam Baker from Exeter, the first married couple to complete the race, completed the intense challenge from La Gomera to Antigua - with a gruelling two hours on, two hours off rowing schedule - in an incredible 51 days, 3 hours and 48 minutes.
The pair are aiming to raise £100,000 to be split between the RD&E Charity, Devon Air Ambulance, RNLI and Mind.
Charlie Fleury said: "This is hands down the toughest mental challenge I have ever experienced. There were some deep low moments with the weather against us almost the entire way, making such slow progress and feeling the tonne of the boat you're trying so desperately to move through every muscle and tendon. But there were fantastic highs such as seeing orcas and having a bird escort us almost the whole way."
"The row has taken a toll physically with fixed flexion in our hands, muscle wastage and bone pain. With a 17% body mass loss for myself and 11% for Adam we have some rehab ahead of us! We are so humbled by all the incredible support we have received so far, thank you."
Ian Roome, head of fundraising at the RD&E Charity, said: "Well done and congratulations to Charlie and Adam for completing such an amazing challenge. The money they've raised will really benefit patients and staff at the RD&E – thank you very much!"