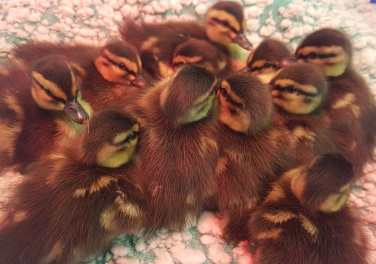 It happened near the Mill on the Exe pub.
The RSPCA has urged dog walkers to keep their pets on leads, after a dog attacked and killed a duck in Exeter on Saturday.
Later that day, her eggs, in a nearby plant pot, hatched, leaving 12 orphaned ducklings.
Someone called the charity to help the birds, who are now being cared for at West Hatch near Taunton, Somerset.
RSPCA Animal Collection Officer (ACO) Clara Scully said: "It's really sad as these poor ducklings had hatched the same day their mother sadly died.
"I also understand this duck had been nesting in the same place, near the same plant pot, for a number of years with her various broods of ducklings.
"Eye-witnesses reported seeing her being attacked by a dog so we hope this highlights the importance of ensuring dogs are kept on leads when wildlife is nearby.
"Legally dog owners should have control of their animals in a public place and we are asking dog owners to try to prevent tragedies like this one happening again.
"Thankfully, the ducklings were spotted in time and we could help them. The person who called us saved their lives by keeping the ducklings warm until I arrived. I then had the heater going in my van to keep the temperature up on the trip to the centre."