Kicked spaniel now sniffs out drugs
A spaniel called Marshall who was kicked, hit and thrown across a room has joined the police as a sniffer dog.
The teenager who abused him at a supported living home in Devon has been banned from keeping animals for 10 years and handed a one-year community order with 100 hours of unpaid work. He must also pay £400 in costs and a £95 victim surcharge.
The court case in front of Newton Abbot magistrates, in which the boy, who is from Torquay, pleaded guilty, resulted after the RSPCA rescued the spaniel.
The CCTV footage from 4 July 2021 shown in court shows the teenager entering a lounge area where the black spaniel cowers from him.
In her statement, presented as part of the court case, RSCPA inspector Becky Wadey, who investigated the case, said: "The male follows the dog across the room and stamps down hard on the dog's body with his left foot... The male then grabs hold of the dog in the neck area and picks it up and then pushes the dog down roughly onto the nearby sofa. Not letting go of the dog, the male kneels over the dog in a very dominating manner with his hands still around the neck area of the dog."
In mitigation, the court heard that the young man was remorseful about what had happened and was disgusted with his actions.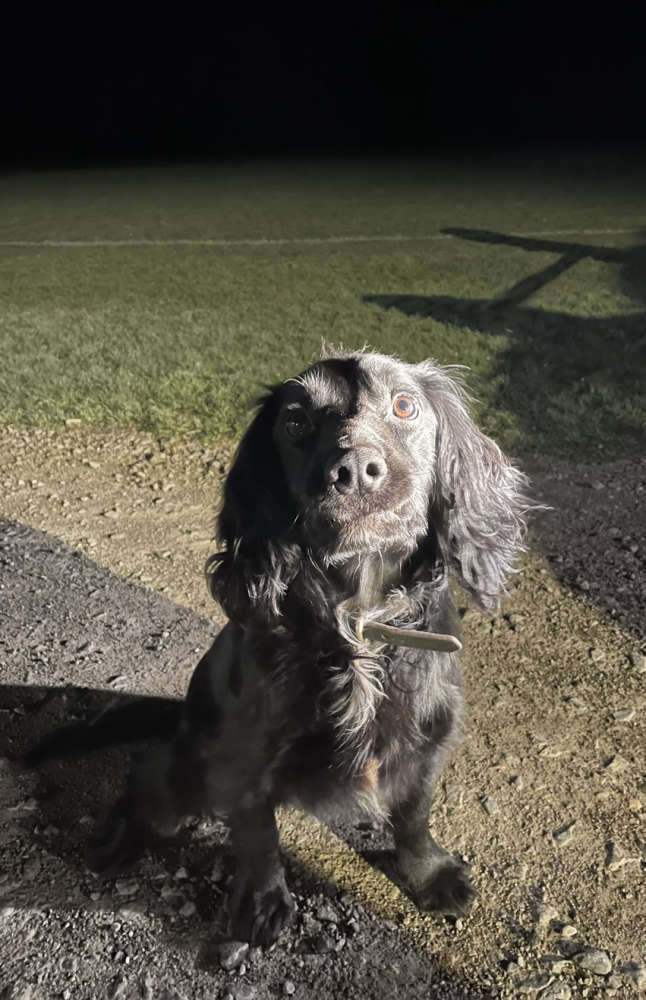 Marshall at work (courtesy: Gloucestershire Constabulary)
Now Marshall has joined Gloucestershire Police, where dog trainer PC Rich Hunt says: "Marshall is brilliant; he's a typical crazy little spaniel! He doesn't stop and goes at 100mph in everything he does.
"He was brilliant on the training course and he's doing really well out on the streets. Just a few weeks ago he helped officers with the search of a vehicle that had been stopped in Cheltenham and found a large quantity of Class A drugs that had been hidden in the car's dashboard.
Inspector Wadey added: "Marshall didn't have the best start in life but I am so thrilled to see him now thriving as a police dog, loving his new life, and using his amazing enthusiasm and incredible nose for good in fighting crime and keeping our communities safe.
"Marshall really has made the most incredible transformation from rescue pup to su-paw hero!"