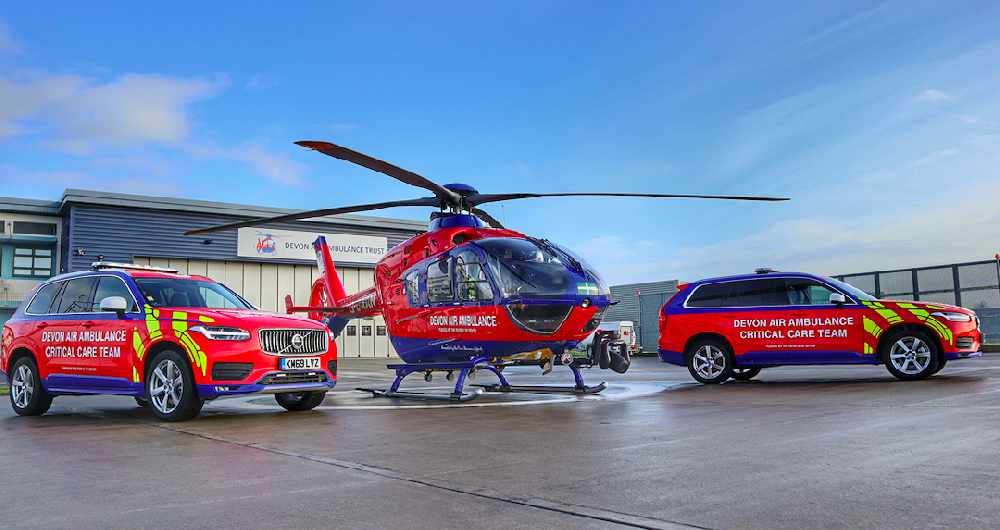 Critical car care starts service today
Devon Air Ambulance is adding a third emergency response vehicle to its fleet, enabling them to help more patients to receive the care they urgently need.
It's key role initially is to provide an additional resource to support the South West Ambulance Service NHS Foundation Trust (SWASFT), which has asked the trust that runs Devon Air Ambulance help with specialist care support as 999 calls increased during the current surge in the covid crisis.
Volvo Cars UK and Kastner Exeter has loaned Devon Air Ambulance a Volvo XC60 which has been fitted out with appropriate medical kit for air ambulance paramedics to call on at the serious incidents they attend.
At the start of the pandemic, Devon Air Ambulance's heiicopters were temporarily grounded to be made covid-safe - and Volvo helped out at that time too. Darren Goodwin, the air ambulance's operations manager said: "Almost a year later, they have come to our aid again and we are pleased to have been able to get this additional vehicle up and running so quickly to support our colleagues on the frontline at SWASFT. This extra resource will enable an additional medical team to deliver their expert enhanced and critical care to those that need emergency treatment as soon as possible."
Devon Air Ambulance receives no government funding, operating as an independent charity, and is funded by the generosity of the people of Devon and beyond. The charity already serves the county by responding to medical emergencies with two helicopters and two Volvo XC90 critical care cars based at Exeter Airport and the North Devon airbase, Eaglescott.

in a statement that charity says: "This past year has put immense pressures on the entire NHS, but this example of collaboration between Devon Air Ambulance and their colleagues in the NHS ambulance service and hospitals will ensure that together, the people of Devon continue to receive the best level of patient care possible."