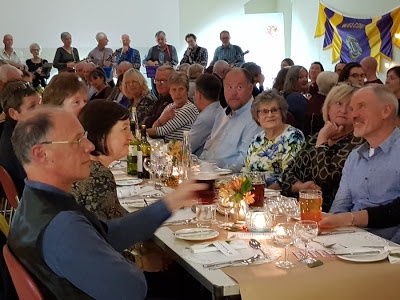 Budleigh Food Group link with Lions to raise £1,400
A school that looks after children with profound learning difficulties has £1,400 of extra cash to spend on them, following a fundraiser organised by two East Devon groups.
The Lions joined forces with the Budleigh Food and Drink Group for foodie winter feast fundraiser at The Peter Hall. They enjoyed four courses and through ticket sales, bar sales and a raffle held on the evening, rang up the four-figure sum, that's being donated to Water Mill School in the grounds of Bicton College. Built in 2015, the new school has light/dark sensory rooms, soft play, a hydrotherapy pool, ICT facilities, specialist curriculum classrooms, spacious grounds and outside play equipment that play a big role in helping the three to 19 year-old reach their full potential.
Trudie Burne said: "We are pleased to have worked with the local community headed by the Lions and the Budleigh Food and Drink Group to hold such a fantastic event to help fundraise and give vital support for children at the school. All the money raised from the event will help Mill Water to support children to make the most of their time at the school.
But there's a hint of sadness too. The Winter Feast marks the last community event to be hosted by the Budleigh Food and Drink Festival Group who are now hanging up their hats for the time being and taking a well deserved rest from their community efforts.