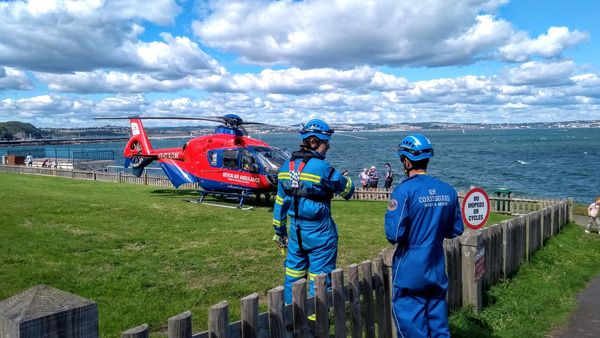 Devon Air Ambulance at Brixham (courtesy: Berry Head Coastguard/ Facebook)
He's taken to Torbay Hospital
A man who suffered a heart attack whilst at sea off Brixham was taken to Torbay Hospital after being brought to shore by crew from Torbay's RNLI.
Berry Head coastguard were alerted by their Solent colleagues just before noon on Saturday. The casualty, who hasn't been named, was in cardiac arrest on a yacht. The RNLI towed the vessel back to the lifeboat pontoon. Lifeboat crew, yacht crew members and a lifeboat paramedic and doctor worked on the casualty on its journey to shore.
Devon Air Ambulance landed near Shoalstone outdoor pool and their paramedics joined other medics at the lifeboat house to help. The man was taken to hospital by land ambulance, with medics from Devon Air Ambulance accompanying them.
That meant equipment on the helipcoter had to be readjusted to make up for the weight difference on its return journey. Berry Head coastguard's team help manage the crowd around the chopper whilst that work was done. On its Facebook page, the team says: "As always great multi-agency working - the casualty had the very best care available to him and we hope he makes a full recovery. Remember if you see anyone in trouble around our coastline dial 999 and ask for the coastguard."