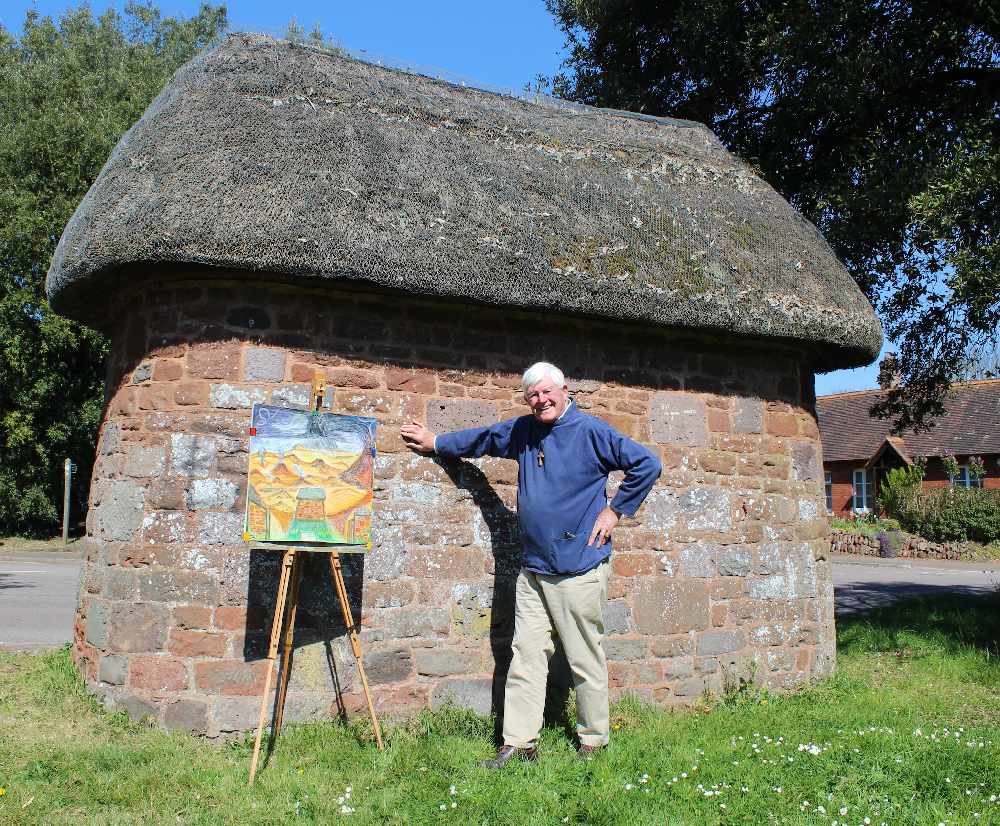 It was part of Devonian desert
A man inspired by prehistoric stones of a Broadclyst bus shelter is helping some of the world's poorest communities protect themselves from threats caused by the climate crisis and the coronavirus pandemic.
Canon Robin Murch, who retired from his church ministry in 2000 calls himself a "theological folk artist", has taken his "New Visions" exhibition of paintings to churches across the south west. For Christian Aid Week, he is exhibiting "Bus Shelter Recalls" at Broadclyst Post Office.
Canon Robin said: "You will recognise our charming bus shelter, built of local stone and topped with a fine thatch, a familiar part of the village for many years. I found inspiration from its stonework and this is the subject of the picture. The stones tell us of Broadclyst as it was 290 or so million years ago. Look carefully and you will see volcanic lava rock with bubble holes that held smoke and hot gases.
"The scene in those far off days was of a large desert area, with active volcanoes, hot springs and sand storms. Then there were violent flash floods tearing away at mountains now worn away. This large red desert covered much of the Exe valley as we know it, and other parts of England. We can see the desert in cross section in the cliffs of Dawlish , Exmouth, and Teignmouth.
"Broadclyst is a very different place today I'm glad to say, no more an arid desert, but a lovely Devon country village. We have water in our taps anytime we want it. Yet, not so long ago we would have had to fetch and carry it from the village pump, which is opposite the Bus Shelter. So spare a thought for those who live in desert regions and have the task of fetching and carrying water this Christian Aid week. Donations may be given in at the Post Office."
The twin threats of covid-19 and the climate crisis will be the focus of Christian Aid Week from 10 to 16 May. The charity is asking supporters to stand in solidarity with those at the very brunt of these global crises, specifically with all those forced to walk long distances to collect water for their families. It says: "Handwashing in our homes, a key line of defence against coronavirus, is not an option for the world's three billion people who do not have access to soap and water at home. But while coronavirus has sharpened this issue of a reliable source of water, the impacts of climate change remain the biggest challenge for the communities Christian Aid works with. Unpredictable water sources, triggered by erratic weather, are pushing families into extreme poverty as crops fail, livestock die, and incomes are destroyed.

To find out more about how to build pressure for change for a greener, fairer world visit https://bit.ly/3xL33RA